June 2012
For Microsoft Access, SQL Server,
Visual Studio .NET, and VB6 Professionals

---
Greetings!
The announcements from Microsoft the past two months have been absolutely stunning. Many new initiatives are coming to fruition.
In early May, I had a very enjoyable experience participating at the Portland Access User Group Conference in Silver Falls State Park. What a beautiful place with lively, friendly participants. Ryan McMinn and Kevin Bell of the Microsoft Access team demonstrated the future of Office and Access. After the conference, I headed to Redmond and met with members of the Office, Developer Tools (Visual Studio .NET, SQL Server, Azure, LightSwitch), and Bing divisions.
Microsoft is very focused on beating Apple, Google, and Amazon, and being the best player on the platforms of the future. Within the past few weeks, several major announcements were made. Azure intends to dominate the hosting world. In addition to hosting .NET applications, they now offer Virtual Machines and website hosting beyond Windows to include Linux, WordPress, Python, etc. Can you believe it? SkyDrive now offers applications for Windows, iPhone, and Android to share files locally and in the cloud. LightSwitch is moving from Silverlight to a pure HTML5 platform. Visual Studio .NET now offers mobility interfaces, and much more! Check out the videos from Microsoft's TechEd conference last week for more details.
We've also had two articles published on the Microsoft Access blog by Molly Pell, and lots of technical content including my presentation on how to take over an existing Access application.
Luke Chung
President
P.S. Please

our Facebook page to receive the latest information about our product releases, tips, and other news related to helping you be more productive.
Contents
---
Total Access Emailer Sends Personalized Emails and Reports
Use Total Access Emailer to leverage the power of your Microsoft Access data and reports. Easily send personalized emails using the data from your tables. Send text and HTML formatted emails. Attach files, filtered reports as PDF files, and even password protect them.
Total Access Emailer runs as a Microsoft Access add-in Wizard. No programming is required to create and send your email blasts. A VBA programmatic interface and runtime library are available in the Professional Version if you want to automate emails within your Access applications.
Download your free Microsoft Access email trial today.
---
Taking Over Legacy Microsoft Access Database Applications
Microsoft Access Conference in Portland, Oregon
In May, FMS President Luke Chung presented at the three day Microsoft Access conference sponsored by the Portland Oregon Access User Group. Luke participated in a variety of discussions and gave a presentation on Taking Over a Legacy Microsoft Access Database Application. Check out the paper and PowerPoint presentation.
Situated at the beautiful Silver Falls State Park Conference Center, Luke and some fellow participants took a hike through forest and the many waterfalls there: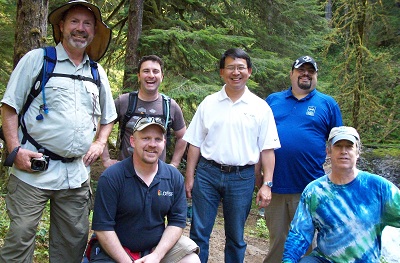 ---
Watch the Microsoft TechEd Conference Videos
TechEd is Microsoft's premier conference for IT professionals and developers. The sold-out conference took place in Orlando, Florida June 11-14.
If you didn't attend, you can still watch the videos from the conference, including the keynotes and other highlights from each day. Visit the TechEd web site and click the "On Demand" tab to learn about the latest in Microsoft technology.
The announcements this year are stunning with huge advances in Azure, Visual Studio .NET, SkyDrive, LightSwitch, Virtual Machines, and more.
---
FMS Guest Blogs on the Microsoft Access Developer Blog: Using a Combo Box to Search
FMS developer Molly Pell is a guest blogger on the Microsoft Access developer blog. This post demonstrates a neat trick that you can use to filter a Continuous or Split form while your users are typing in a Combo Box.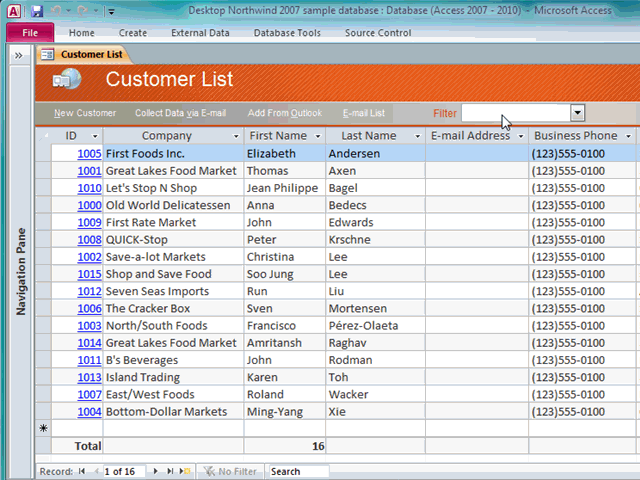 Check out the post here: Using a Combo Box to Search as you Type.
For more combo box tips, check out our Top 5 Combo Box Tips for Access.
---
Microsoft Access Crosstab Queries in Reports on the Microsoft Access Developer Blog
FMS developer Molly Pell is featured as a guest blogger on the Microsoft Access developer blog.
This post demonstrates how to use the Pivot statement to control column names returned by crosstab queries, allowing crosstabs to be used on reports.

Check out the post here: Using crosstab queries in reports
Or read our technical paper with an example of Creating an Annual 12 Month Summary Report without VBA Code by Creatively Using a Microsoft Access Crosstab Query
---
Microsoft Access Database Architecture: Storing Temporary Data and User Settings
Read our new paper on:
There are many things a user does with an application that need to be preserved either during processing, between screens, between sessions, or between application updates/versions. When designing a system, it's important to consider what to keep and where/how to do this. If designed properly, the data should also support multi-user environments.
Problem
Users are commonly annoyed to be forced to re-enter their last specifications when the application should start with that as its default. After all, a computer is supposed to be good at remembering things, right?
Solutions
There are several ways to preserve user information during a session, on a PC, and/or between PCs:
Keeping Selections in Memory for the Current Session

Using the Registry to Store User Information Between Sessions

Using Private Tables to Store Information Between Sessions

Making Sure Previous Values Remain Valid
Read the paper for more details and tips.
---
FMS Professional Solutions Group Creating Custom Solutions using Visual Studio LightSwitch and .NET
Our Professional Solutions Group has created several custom Visual Studio LightSwitch web solutions recently. This rapid application development platform is very misunderstood by the .NET developer community. Touted as an easy-to-use platform that didn't require coding, it didn't appeal to .NET developers and was too complex for non-developers.
Starting with a good database design, LightSwitch is great for creating a certain class of database applications quickly. It originally required users to install Silverlight which severely limited its usefulness. At TechEd, Microsoft announced that the next version eliminates the Silverlight dependency and directly supports HTML5. This enables solutions across multiple platforms. Contact our consulting team if you would like a custom solution.
---
Speaking at NYC Access User Group in September
FMS president Luke Chung will be speaking at the New York City Access User Group on September 10th, 6:30PM. The meeting is free and held at the Microsoft offices at 1290 6th Ave., between 51st and 52nd Streets.
---
FMS President Luke Chung Improving Teacher Evaluations
Over the past year, FMS President Luke Chung was deeply involved with revamping the way teachers are evaluated in our county school system. As one of two outsiders on a task force of 35, Luke brought a parental and "real world" perspective to the teachers and administrators. Through his participation, Luke discovered many excellent teachers who are sick of the low standards that allow ineffective teachers to devalue their profession.
As a result of this task force, teacher evaluations will now be based 40% on student performance. Previously, student performance did not factor into teacher evaluations at all, so the rise from 0% to 40% is quite significant.
Many things still remain to be determined, including what's measured, how it's adjusted for student levels, what result is considered effective, and the implications of not meeting benchmarks. That said, it's a huge step forward in improving teacher evaluations.
Luke was quoted rather succinctly in a recent Washington Post article: "You donít want to be on a team where some people are coasting while youíre busting your butt." We're hopeful it'll make a difference to schools, teachers and students.
---
Thank you for your continued support!
Watch our

Blog,

Facebook page, and

Twitter feed for our latest announcements