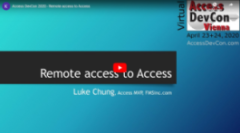 FMS President Luke Chung is one of the world leading experts on hosting Microsoft Access solutions on remote servers. Leveraging his extensive knowledge of Access application development, he has extensively researched how to configure, license, secure, deploy and maintain such solutions over time.
He has given talks on this subject at several conferences in the US and Europe, and ensures our team delivers such solutions on your internal network and Azure cloud. During the 2020 Virtual Access DevCon, he gave a presentation on RemoteApp and Microsoft Access Database Applications, which is available for everyone to watch!
Let us help you increase the value of your investment in Access applications.