History Repeats Itself through Revolutionary Change
Mobile devices are revolutionizing the way people receive and send information. Just like PCs revolutionized the mini and mainframe computer markets, smartphones and tablets are doing the same to PCs, laptops, and notebooks.
PCs succeeded not by porting software from larger computers, but by creating solutions that never existed there. We are witnessing the same evolution with mobile devices.
Mobile Solutions which Can't Exist on PCs
It's not a matter of taking Windows and web desktop solutions and moving them to mobile devices. People already complain their monitors or multiple monitors are too small, so moving those applications to an even smaller mobile screen makes no sense. What does make sense is creating a whole new class of solutions targeted for mobile devices.
These would be solutions that perform functions impossible to achieve on existing PCs and laptops. That means taking advantage of features unique to mobile devices such as the camera and GPS, and combining them with collaboration resources such as calendars, contact lists, email, and databases.
Getting this all to work together and supporting disconnected environments enables mobile users to truly take advantage of their devices.
While there are lots of mobile applications for consumers, we are witnessing the beginning of mobile solutions designed to empower organizations and the way they provide services, collect information, and manage their operations.
Empowering a North American Field Sales Force
The FMS Professional Services team created an Android solution for an international manufacturer that gives their North American team a competitive edge.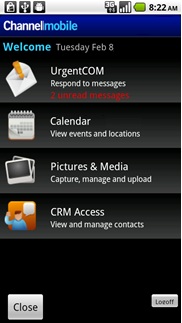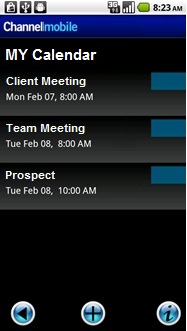 This wasn't just converting a PC or web system to a mobile device. It leverages the smartphone features to create a solution that would not otherwise exist and transforms the way they share information, communicate, and make decisions.
The mobile solution extends that to let them enter and receive data in a whole new way. It is an Android application that:
Integrates the camera, GPS, and calendar features to easily upload and geo tag photos
Sends and receives messages and alerts from their primary web application so the entire field team is managed in real time
Leverages information delivered from their SQL Server business intelligence analytics
Uses secure connections to a transactional Microsoft SQL Server database