Why this is the right solution for Microsoft Access Users
If you need to view, edit or store rich format text in Microsoft Access, Total Access Memo is for you!
---
I Need Rich Text Format Fields in Access
I want to add text with different fonts, point sizes, styles, paragraph justification, bullets and pictures, but Access doesn't support this.
Solution
Total Access Memo supports a full set of rich text formatting options. You can have multiple fields per record and an unlimited number of records. Rich text can be added to your forms and reports.
Before Total Access Memo

Plain text is dull and boring
After Total Access Memo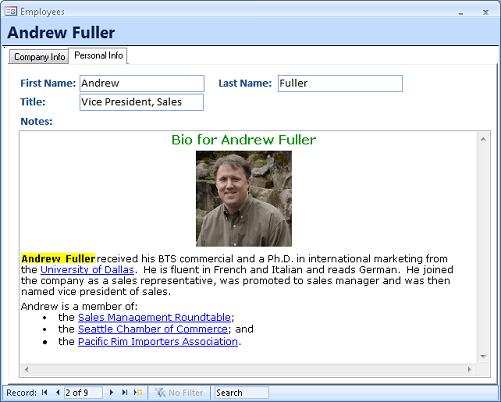 Rich text makes it easier to emphasize and understand important data
---
The Microsoft rich text ActiveX control doesn't work and lacks spell checking
I tried to use the Microsoft Rich Text ActiveX control, but I found that it doesn't bind to my data correctly without programming. Plus, it offers no menus or toolbars to make text formatting possible, and I can't spell check my text.
Solution
Total Access Memo supports data binding just by setting one property.
You don't need to edit only in the control. Simply press Shift-F2 to bring up the Total Access Memo's built-in editor which opens as a separate, maximizable Window. From there you can edit your text in full screen with toolbars, menus, and online help. When you finish, the rich text is saved in your memo field.
Microsoft Access's spell checker cannot spell check the contents of an ActiveX control on your form or report. The Total Access Memo spell checker ensures you save text without typos.
---
Microsoft Word is just too cumbersome
I tried using Microsoft Word to embed rich text into Access tables, but I found that writing the VBA code was just to much work. Plus, the performance was slow, Word doesn't work on reports, and if another instance of Word is open and waiting for the user, my application freezes.
Solution
Simply place a Total Access Memo control on your form, point it to a memo field in your table, and your ready to go. Total Access Memo also works on reports without the need to use Microsoft Word at all. Because the contents are stored in standard rich text format, you can easily copy and paste between Total Access Memo and Word. Total Access Memo is multi-user compatible and supports multiple simultaneous instances on your machine or across your network.
---
I need presentation-quality reports
My reports need fonts, color, and formatting within a field. I want to include integrated charts, images, and hyperlinks. Microsoft Access just can't do this.
Solution
Total Access Memo supports all these capabilities on reports: fonts and formatting within text, integrated charts, graphics, and active hyperlinks all with one control.
---
I need a cost-effective solution
Using Microsoft Word or the Microsoft RTF control is just too limiting.
Solution
Total Access Memo gives you the rich text experience you want. For $299, it pays for itself in development time savings alone. Plus the free unlimited royalty-free redistribution rights make it even more cost effective so you can distribute your work to non-Total Access Memo users. All backed by FMS, the leading provider of commercial Microsoft Access solutions.