Microsoft Tech Ed Conference 2009
Los Angeles Convention Center (May 11-15, 2009)

This panel explores the different reasons and approaches for migrating applications to Microsoft SQL Server. In addition to moving the data to SQL Server, ideas are presented for transforming applications to offer additional features while watching budgets.
Examples are provided for migrating data from Oracle, Access, and Excel to SQL Server. That's the easy part. Discussions also cover the challenges of maintaining and monitoring the new database, whether a database administrator is needed, and the life cycle of a SQL Server application.
Speakers: Luke Chung, Richard Campbell, Stephen Forte, and Armen Stein, emceed by Mary Chipman. (43 minutes)
---

Are you a developer wondering what to do in these dire economic times? Or are you in charge of a development team facing tighter budgets and higher risk? Not sure what to do or consider to protect your job or career? Listen to this panel for their insight and experience.
During tough economic times, development teams tend to get smaller while business requirements get larger in an effort to do more with less. The panelists share their insights and experiences gleaned from years of surviving economic ups and downs.
Hear the panel discussion among Luke Chung, Stephen Forte, Kent Alstad, Armen Stein, Rockford Lhotka, and Paul Sheriff, emceed by Mary Chipman. (51 minutes).
---
Thinking of creating your own consulting business? Trying to grow your existing consulting business?

Hear the panel discussion of the experiences of Luke Chung, Paul Sheriff, and Armen Stein in founding and running their consulting firms over the past two decades. (54 minutes)
---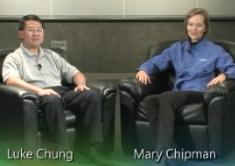 FMS has survived many business and technology cycles since its founding in 1986. Microsoft's Mary Chipman interviews Luke Chung about the story of FMS, how its survived these 23 years, and how it has served its wide range of customers.
Luke discusses the three groups within FMS:
Learn more about FMS, our history, and our successes over the years. Hear about our challenges and philosophies, and how we've helped our customers maximize their IT investments and anticipate the evolution of their applications. (28 minutes)