Let's Talk about Software Consulting as a Business
Panel Discussion at Microsoft TechEd North America
Taped on May 11, 2009 at the Los Angeles Convention Center
Are you a software consultant, or part of a consulting company? Or are you thinking of going independent?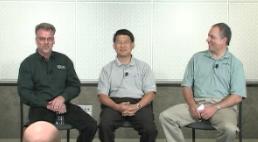 Hear the panel discussion among Luke Chung, Paul Sheriff, and Armen Stein, founders and owners of consulting firms located in California, Virginia, and Washington. Learn from their experiences running their software development firms over the past two decades, the challenges they face, and the challenges they've overcome.
Topics include getting started, moving from contractor to business owner, project management and options, business cycles, client relationships, cash control, contracts, legal, accounting, outsourcing, prototyping, development philosophies, and much more.
Whether you're running your own business or looking to hire a consulting firm, you'll learn from this video. Discover how these firms succeeded over the years by differentiating themselves through hard work, quality, processes, and experience.
Watch the Video (54 minutes)
Additional Resources