The Best Microsoft Access Development Services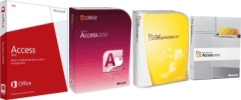 As the world's leading developer of Microsoft Access products, we have extensive experience creating Microsoft Access applications. With tens of thousands of customers in over 100 countries, our products address a variety of customer needs and environments, often in places we've never visited. That requires skilled Microsoft Access developers, knowledge, and a rigorous process for software excellence.
Our consulting team provides this expertise when creating custom Microsoft Access applications for your mission. Easily deploy productivity enhancing solutions that leverage Access with Excel, Exchange/Outlook/email, PowerPoint, SharePoint, and Word. We've even extended Microsoft Access to the Internet cloud with Microsoft Azure to share your data and files with external contacts.
Whether it's single or multi-user, a simple desktop solution, or migrating and integrating with your enterprise Microsoft SQL Server databases, let our Microsoft Access programmers and Microsoft MVPs assist you.
Full-Time Developers On Staff
Our Microsoft Access database developers are full time FMS employees, located at our headquarters, and experienced with all types of Access applications. Leverage our decades of MS Access programming expertise and extensive code library to create great Access solutions that are cost effective, timely, fast, secure, and maintainable as your needs evolve.
Examples of Our Custom Solutions using Microsoft Access
We have created hundreds of custom Microsoft Access database solutions for a wide range of clients. Here are just a few examples:
For more information, Contact us or visit our MS Access Consulting Services page and discover why even Microsoft chooses FMS for custom Access solutions.