Total Access Statistics offers a wide range of statistical functions for Microsoft Access users and developers. Developed specifically for Microsoft Access, Total Access Statistics eliminates the need to export your data to other programs for statistical analysis.
Total Access Statistics is installed as a Microsoft Access Add-in and runs directly from your database through the File | Add-ins menu. Using the Total Access Statistics Wizard, you can quickly analyze your data without programming. You can analyze any Access table, linked table, or Select query. An unlimited number of records and multiple fields can be analyzed at one time. Best of all, all results are in Microsoft Access tables. View, sort, or query the results, merge it with other data, or add it to forms and reports.
Total Access Statistics can also be added to your Microsoft Access applications. If you are a developer and need statistical analysis in your database, you can by-pass the Wizard and add all the statistical features directly into your application with a simple procedure call.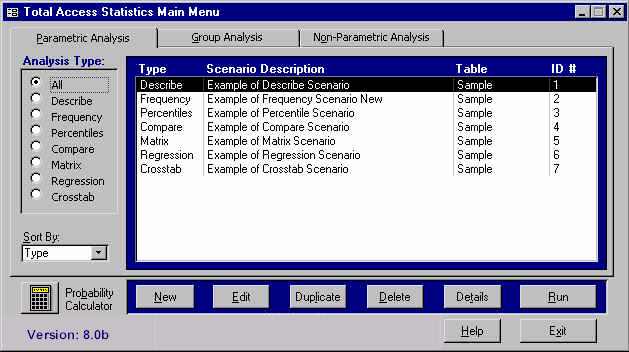 The Total Access Statistics Wizard