Monitor the Activity of Your Microsoft Access/Jet Engine Databases in Real-Time
Total Access Admin is an administrator tool to help you monitor the users going in and out of your Microsoft Access databases (ACCDB and MDB formats):
See who is currently connected to your Microsoft Access database (you can manage multiple databases from one screen)
Monitor up to 150 databases at one time
Keep a log of users entering and exiting your database
Identify workstations or users disconnecting in a suspect manner which may be the source of database corruption
Compact your database when all users exit it
Prevent new users from logging into your database
Log off idle users
Communicate with your users in real-time
Total Access Admin is an easy-to-use, standalone program. Simply launch the program and point it to your databases across your network! You'll enjoy seeing the activity in real-time. It's especially helpful if you need to kick out everyone in the database and want to know who's currently in using it.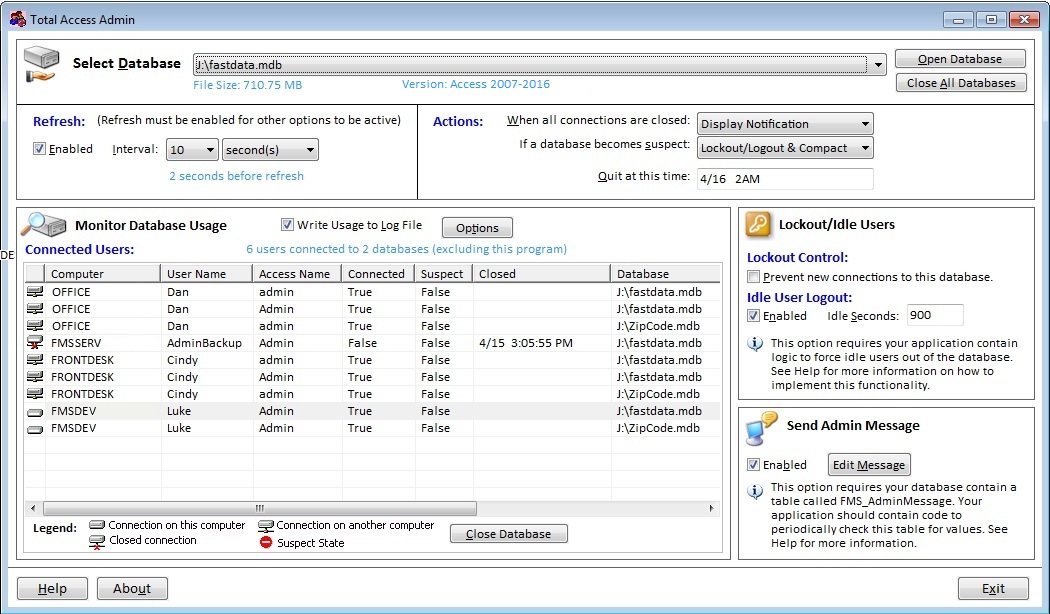 Total Access Admin main form to monitor Microsoft Access databases
New for Microsoft Access 2016
New Features:
Supports all Access database formats including ACCDB and MDBs through Access 2016
Does not require Access to be installed on your machine
Works with machines that have Access 32 or 64-bit versions installed either from disk or Office365
Up to 150 databases can be monitored at one time
Setup program supports Windows 8 and 10
Updated help file and manual
See Who's in Your Microsoft Access Databases
Quickly see who is currently logged into your databases either directly or through linked tables. Total Access Admin supports databases that are password protected or secured through a workgroup file. Multiple databases can be monitored at one time. The workstation name, their Access/Jet login name, and connection status are revealed. Suspect connections are shown and if someone exits, the time they left is shown.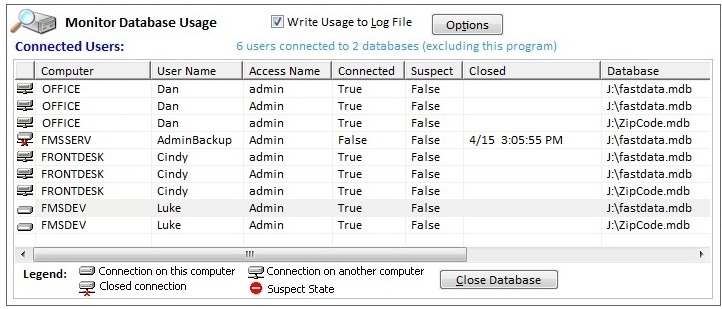 Watch Users Connect and Disconnect from All Your Databases
User Name Display
Total Access Admin can display the user name for each computer name. Microsoft Access/Jet only knows what computer is connected to a database and not the actual user name. You can now create and maintain a list of computers with their user names to better understand who's in your databases. Provided multiple people aren't using the same computer, this makes it much easier to see who's in your database.
Log User Connections to a Database
Record all the user connections to track when people enter and leave each database. The information is stored in a table in a log database you specify. The data is in MS Access tables, so you can easily query and perform additional analysis on it.
The log now contains the user name and forms to show all the activity and activities by session: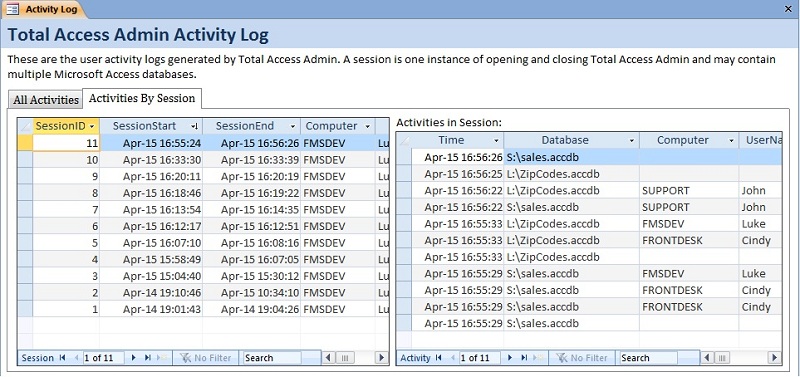 Activities for Each Time Total Access Admin is Launched
Prevent New Connections to Your Microsoft Access Database
This great feature makes it easier than ever to prepare a database for backups, compact/repair, or other maintenance operations. Set at the Access/Jet database engine level, this option prevents new users from opening the database, giving you time to kick out the existing users. (This feature is supported in Jet 4.0 or later and is not available for Access 97 or earlier).
Automatically Disconnect Idle Users
When a user leaves their computer on with your Access or Jet/VB database open, it can be impossible to get the database closed for maintenance until you track them down. Use Total Access Admin to automatically log users out of a database after a specified period of inactivity. You can specify the number of seconds it should wait before logging out the user automatically.
Compact Database When All Users Exit

If you'd like, when all the users exit the database, Total Access Admin can get a full lock and compact the database. This makes it easy to compact the database once everyone exits. Database compact is made with extra care to ensure that a successful copy is made before the original is replaced.
Other options include closing the database, displaying a message, and exiting Total Access Admin.
Identify Dropped or Suspect Connections
A dropped connection to an Access/Jet database can lead to database corruption. Total Access Admin identifies workstations or users who left the database in a suspect state. This can be invaluable for pinpointing a potential database corruption source.

Not only can you use the log file to store when this occurs, you can also have Total Access Admin automatically compact the database once a suspect connection is detected and everyone else has exited. These options are available:
Close Total Access Admin's connection to the database
Display a notification on-screen
Lockout new users, and logout idle users
Lockout new users, logout idle users, then compact the database
Exit Total Access Admin
Specify a Time to Quit
Previously, Total Access Admin could be set to exit for certain actions such as when all users exit the databases.
You can now specify a specific time to exit regardless of other activity in your databases. Just specify any date/time in the future.

Send Messages to Application Users
Use Total Access Admin to communicate in real time with your application users. Simply type in a message and it appears in every instance of your application. Great for sending update or maintenance/log-out messages.
Command Line Support
Total Access Admin can be launched from a command line, Windows shortcut, or batch file. The database name, login info, and all the interactive selections can be set from the command line to simplify repetitive tasks.
---
How it Works
Total Access Admin runs as a stand alone program. Install and run it from a machine that has a version of Access supporting the database formats desired. Point it to the databases you want to examine and the list of users is displayed. The databases can reside anywhere on your network that you have rights to see.
Total Access Admin can also be run from the command line with all the user interface options, making it easy to create a shortcut for regularly checked databases.
LACCDB and LDB Viewer
Technically, Total Access Admin is an LACCDB and LDB Viewer. When you open an Access Jet database (either ACCDB or MDB format), a lock file is created with a *.LACCDB or *.LDB extension. Total Access Admin lets you peek into these files to see who's currently using them. By monitoring them over time, it can determine when people leave, if they break their connections unexpectedly, and to prevent new users from opening the database.
---
Part of the Total Access Solution
Total Access Admin is a member of the award-winning family of Microsoft Access products that make your life easier. Like our Total Access Analyzer and Total Visual Agent products, Total Access Admin makes it easier to maintain your Access and VB6 projects using Microsoft Access databases.
100% Guaranteed
Total Access Admin is 100% guaranteed to pay for itself the first time you use it. Easily monitor and maintain Access/Jet Engine databases. Control access and effectively communicate with users. If you are not completely satisfied with Total Access Admin, return it within 30 days for a complete refund.
Pricing and Versions
Total Visual Admin supports all recent Microsoft Access/Jet versions. Two versions are available depending on whether you support the ACCDB database format.
Total Access Admin 2016 Support Multiple Versions of Microsoft Access
Total Access Admin 2016 is our latest version supporting MS Access 2016 and all prior Access database formats:
Microsoft Access 2016, 2013, 2010, 2007, 2003, 2002, 2000
ACCDB and MDB Jet Databases formats
You do not need to install Access on your machine for Total Access Admin 2016 to perform its tasks. It installs the Access Database Engine (ACE) during the installation process.
Total Access Admin 2003
Total Access Admin 2003 supports MDB databases. It can be used for environments where you never need to support ACCDB database formats or cannot install ACE. Version 11.6 includes features added to the Access 2013 version.