Ask Our Advisors
PC Magazine January 21, 1997
PC Magazine: PC Magazine
Comparing Access Databases
Do you know of a program or third-party add-in tool that makes it possible to compare two Access Databases and highlight the differences?
Marilyn Forbes
Metairie Louisiana
PC MAGAZINE: I know of no product that compares databases created with Microsoft Access for Windows 95. For Access 2.0, however, you can use Total Access Detective, a third-party add-in tool vendor in Vienna, Virginia. Total Access Detective runs as a library database and is automatically added to Access's File | Add-ins menu. From there, you can call it up to compare two objects in the currently open database easily. To compare objects in two different databases, you would run the Comparison Wizard, whose icon is installed in the Total Access Tools Program Group during installation. You can then choose which databases and objects to compare.
Items that can be checked for differences include object properties, settings, fields, indexes, controls, control properties, sections, section properties, the code behind forms and reports, macro and module lines, records, data permission settings, table relationships - basically everything you'd be interested in checking. When comparing tables, you can opt to check for differences in the data along with the design objects - a big plus - but the table structures of the two tables must be identical for this feature to work.
The product automatically detects differences in the layout information for the Forms and Reports, such as controls, sections, and properties. The code behind forms and reports can also be compared. The code in macros and modules can be compared, but this requires an extra preliminary step for each database.
One interesting aspect of Total Access Detective is the approach it takes in comparing module text. Lines in modules are compared on a line-by-line basis until a difference occurs. Then the product determines whether the difference is due to new lines or to the modification of lines. If the difference is due to new lines, Total Access Detective shows the new lines as being different, but the remaining lines are "resynchronized" so that they are not shown as different, even though their line numbers are no longer the same. The resynchronization is based on an alterable value called "# of lines to resync," which defines the number of consecutive lines. You can also tell Total Access Detective to ignore any differences in indentation it discovers between two code modules.
Once you've compared databases, you can view the results (see View Menu in Figure 1) or print a number of useful reports. The Reports menu is shown in Figure 2.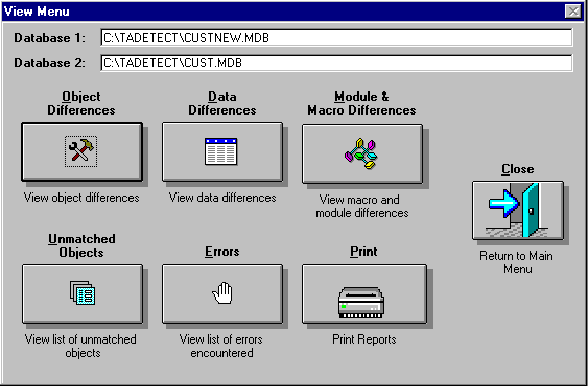 Figure 1: The View Menu in Total Access Detective lets you view the results of comparing two Access 2.0 databases for differences.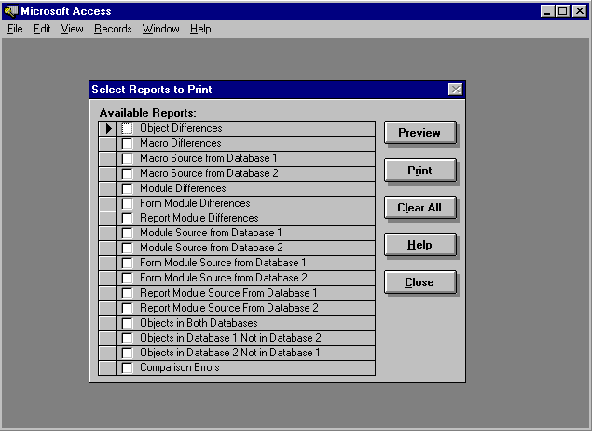 Figure 2: The Total Access Detective reports menu lets you select a number of useful reports that show the results of comparing two databases for differences.
Total Access Detective has a list price of $149. For more information, you can reach FMS by phone, at 703-356-4700; via fax, at 703-448-3861; or through the World Wide Web, at www.fmsinc.com.
---