Total Access Startup 2016 lets you specify a primary Access version and the range of additional versions. For instance, you can specify Microsoft Access 2016 down to Access 2007. If the user has Access 2016 installed, it is launched. If not, it tries to find Access 2013, then Access 2010, and finally Access 2007. If the last Access version isn't installed, a message for a missing Access version is displayed and the database is not launched.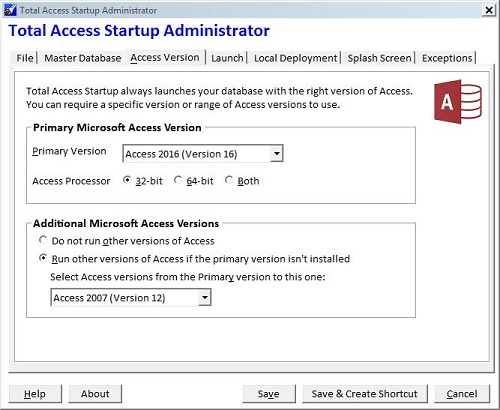 Specify the Primary Microsoft Access Version and Optional Range of Additional Versions
This lets you support users with the latest version of Access immediately and those who haven't migrated. Of course, your database must support all the versions you specify.
Conversely, you can specify an older Access version and any later versions and it will work in reverse.