Create Dazzling Forms and Simplify Microsoft Access Application Development
SHIPPING FOR MICROSOFT ACCESS 2016 and 2013
New Features:
Includes controls for 32 and 64 bit operating systems
The 32-bit controls work with Access 2000, 2002, 2003, 2007, and the 32 bit version of Access 2010, 2013 and 2016
When the 64-bit controls are installed, the 64-bit version of Access can use your Access database containing the 32-bit controls without any changes
Controls rewritten using C++ version 10.0
System information control supports large memory and 64-bit environments
Enhancements to support Windows XP, Vista and Windows 7
Improved sample database
Enhance your Microsoft Access applications with amazing visual effects, interactive features, integration with the operating system, and other enhancements that are sure to amaze your users, co-workers, clients and boss!
Add powerful functionality to your Access application in minutes with the only collection of ActiveX custom controls designed specifically for Microsoft Access.
Best of all, the controls support all Access versions from Access 2000 to 2016 (32 and 64-bit versions), so your database can look great even if your users don't have the latest version.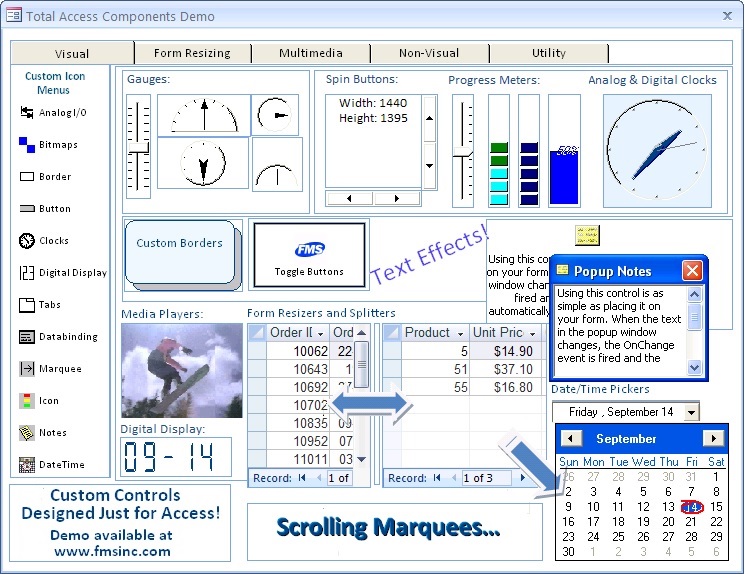 Professional Controls
Give your Access applications a professional polish to differentiate your work! Total Access Components includes 30 controls to enhance your user interface and simplify development.
Designed specifically for Access, Total Access Components understand Access forms and reports, and many visual controls can be data bound directly to your fields to reflect their values graphically.
Add Advanced Menus
Easily add new ways for users to make their selections:
Create More Powerful Forms
Design forms that automatically resize to the user's workspace and give them the ability to adjust portions of the form with an interactive splitter bar.
Display Relative Values Graphically
Simplify and Improve Data Entry
Add Dazzling Visual Effects
Easily add dazzling visual effects by placing these controls on your forms and reports:
Animation

Other Visual Features and Effects


Simplify Development with Windows System Features
Easily add features that would otherwise require extensive Windows API calls or VBA programming. Total Access Components encapsulates complex Windows API calls to simplify your ability to add standard Windows dialogs to your MS Access applications with little or no code.
Simply invoke our control, set a few properties, and get the results you need. This also eliminates the need to create your own forms to replicate these features, and guarantees that your user interface matches your users' operating system for a more integrated solution.
Support Multimedia
Easily support multimedia features:
See for Yourself with the Free Demo Database
See the controls in action with our interactive demo database. You won't believe what you're seeing is in Access!
Tour of the Controls in Total Access Components
Quickly Add Advanced Functionality
Many features require no programming! Just place a control on your form or report and set some properties. If you're a VBA programmer, you can modify most properties in code and invoke methods for additional functionality.
Total Access Components includes an extensive tutorial database with source code containing working examples of every control. On-line help and a professionally printed 158 page manual are included.
Free and Easy Redistribution
Total Access Components includes a royalty-free runtime license to let you add its features to your database and distribute it for free to non-Total Access Components owners. Our automated distribution program makes installing the controls super easy. More Redistribution Info
Pricing and Versions
The latest version supports Microsoft Access 2000, 2002, 2003, 2007, and the 32 and 64 bit versions of Access 2010, 2013 and 2016. An older version is available for Access 95 and 97.
32 Versus 64 Bit Versions
Since ActiveX controls are either 32 or 64-bit dependent, the controls from the 32-bit version can be added to your MS Access forms and reports for use by Access 2000, 2002, 2003, 2007, and the 32-bit versions of Access 2010, 2013 and 2016.
The 64-bit version of Access 2010, 2013 and 2016 requires 64-bit ActiveX controls and cannot use the 32-bit version. When the 64-bit version of Total Access Components is installed on a machine, it can insert those 64-bit controls. It can also automatically use databases containing the 32-bit controls without any manual changes.
Total Access Components Products
by Microsoft Access Version

---

Single
$199
5 Seat
$599
Single
$119
5 Seat
$349
Single
$299
More Information
5 Seat
$999
Total Access Ultimate Suite
Royalty-free runtime distributions rights are included in the purchase price. Add Total Access Components to your databases and distribute them to non-Total Access Components owners.
Total Access Components is licensed on a per developer basis. Each developer who inserts Total Access Components controls into applications must have a license.