New Features in Total Access Admin 2010 (Version 14.0) and 2003 (Version 11.5)
This page is a reference for a legacy version of Total Access Admin.
The latest version of Total Access Admin is described here: New Features
Two new versions were released:
Total Access Admin 2010, version 14.0 for Access 2010 and 2007
Total Access Admin 2003, version 11.5 for Access 2003 and earlier
Total Access Admin lets you monitor your Microsoft Office Access/Jet databases better than ever and includes many new features.
Multiple Database Support
Total Access Admin now lets you monitor multiple databases from one screen. You can now monitor multiple databases at once (provided they have the same workgroup security, if any).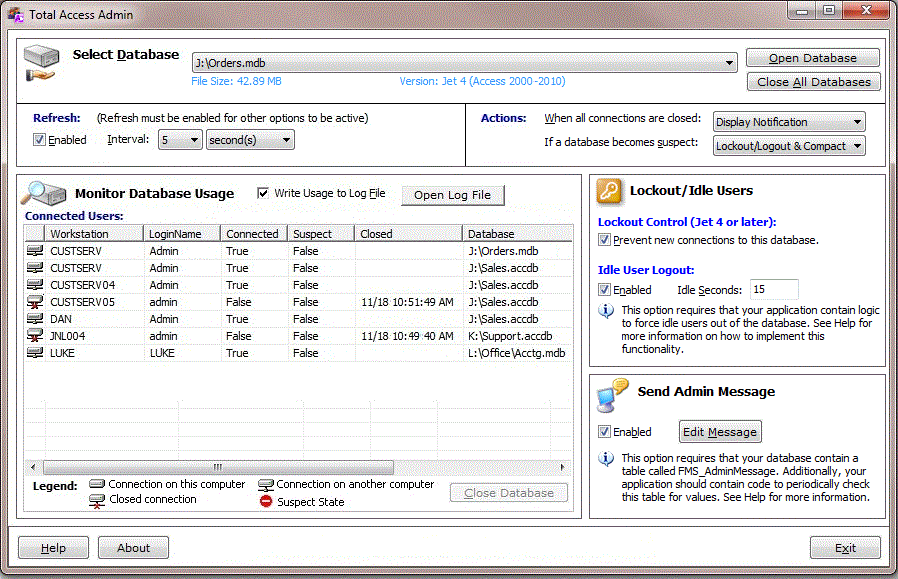 Add and remove databases from your list, and perform actions on all of them. Adding more databases is easy with the Open Database button, or select it from the dropdown list if it was previously opened:

When you attempt to open a second database, you are prompted to Add or Replace the currently open database: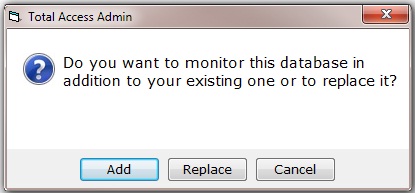 This prompt only appears once. After you choose Add, every database you open is automatically added. You can close them individually or close all of them with a button click.
Sortable List of Users and Databases
The main form is now resizable and can be maximized to show a larger grid of databases, users, and their connection information. The list of users can also be sorted by clicking on any of its columns: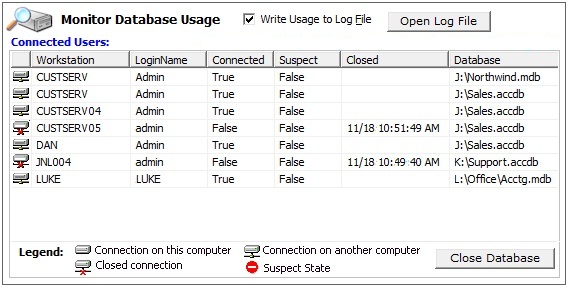 Apply Actions to Multiple Databases
In addition to monitoring the connected users to a database at one time, you can also perform actions against all of them. This includes:
Tasks to perform when all users exit the database: compact it, close it, display a notification, or exit after all databases are closed.
Tasks to perform if a suspect connection occurs: display a notification, close it, lockout other users, and/or compact it.
Lockout all new users from opening the database
Signal the database to close down for idle users
Send an administrative message to all databases
Button to Open the Activity Log File

If you are logging your users' activity, a button opens the log database. See the list of databases, users, activities, and times.
Command Line Enhancement
This version also introduces a new command line switch that overrides the default path of the Activity Log file.
Additional Documentation and Samples
A new help file is included. The sample databases are also enhanced with separate examples for ADO and DAO and how to implement a table driven system for logging out and sending messages to your users.
Microsoft Access Version Support
Total Access Admin 2010, Version 14.0
In addition to supporting all Access/Jet MDB databases from Access 2.0 to 2010, Total Access Admin 2010 also supports Access 2007-2010 ACCDB format created by the 32 or 64 bit version of Access 2010. Support for this format requires Access 2007 or 2010 32 bit version to be installed on the machine.
Total Access Admin 2003, version 11.50
Total Access Admin 2003 supports all Microsoft Access/Jet MDB databases. It does not support Access 2007-2010 ACCDB databases. This version runs on almost all Windows platforms since Jet is included and does not need to have Access installed on that machine.
---
Enhancements in Other Versions
For features added to other versions: