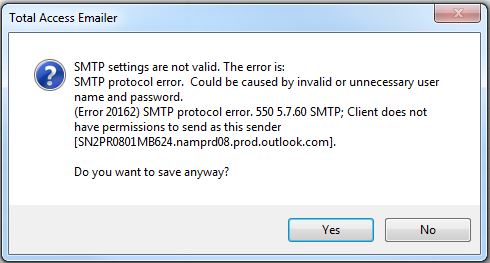 Here's the description of this error from the Microsoft page:
This error indicates that the device is trying to send an email from an address that doesn't match the logon credentials. An example would be if your entered login credentials for sales@contoso.com in your application settings but the application tries to send emails from salesperson1@contoso.com. If your application or printer behaves this way, use Office 365 SMTP relay because SMTP client submission does not support this scenario.
This could be due to your SMTP Server or the specific login does not allow relay (Mailbox Delegation). Make sure your login credentials allows relay.
Older Versions of Total Access Emailer Require a FROM address
This may fail if you are running an older version of Total Access Emailer, your SMTP Server is authorized by IP Address without a logon name, and a Temail.txt file was not created.
In these situations, Total Access Emailer tries to send a test email from its default taemailersample@fmsinc.com address. Your SMTP server may prevent this.
With Total Access Emailer 2021 and X.80 versions, it uses the FROM address from your most recently used email blast.
Alternatively, you can specify an email address with a Temail.txt file in the folder where Total Access Emailer is installed.
Create an ASCII text file called Temail.txt containing the name of the email address you would like to use.
Put the file in the folder where Total Access Emailer is installed (or the location of the Total Access Emailer runtime library). The location of the file depends on how you are running Total Access Emailer.
Total Access Emailer uses your email address for the Relay test. This must be a valid email address and Relay must be enabled on your mail server for this test to succeed.
The latest version uses another technique to validate your SMTP server without having to send an email.