Total Access Speller New Features for Microsoft Access 2016, 2013, 2010, and 2007
Total Access Speller is now available for Microsoft Access 2016, 2013 and 2010 with a wide range of new features. Total Access Speller 12.7 for Microsoft Access 2007 was also released with these enhancements. If you have Microsoft Access 2003 or earlier versions, visit our Microsoft Access 2007 new features page for the latest enhancements added in that version.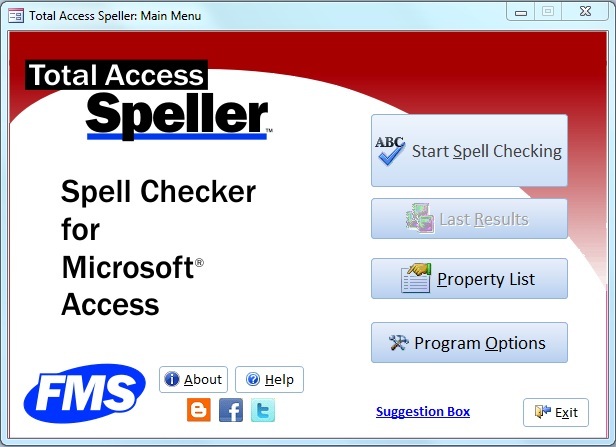 Supports the 32 and 64 bit versions of Microsoft Access 2010, 2013 and 2016
Total Access Speller 2010, 2013 and 2016 each includes two programs in one to support the 32 and 64 bit versions of Microsoft Access. Once installed, go to the Database Tools, Add-ins Ribbon to launch it.
Microsoft does not allow 32 and 64 bit versions of the same version of Access to be installed on one machine. The Total Access Speller setup programs detect the appropriate version and installs it on your machine.
Machine and User Installation Options
The setup program and add-in supports installation for the machine or user. This allows users to run Total Access Speller with or without administrator permissions as set under Windows User Account Control (UAC).
Improved Spell Checking of Macros
Spell checking has improved for documenting macros including comments and message boxes. Supports standard macros and embedded macros in your forms and reports.
New Option to Ignore Invisible Controls
A new option is available to exclude controls with Visible property set to No. This avoids spell checking controls that users never see. Labels associated with controls that are invisible are also excluded. This option is set when selecting objects to spell check:
Property List Shows Built-In Status
On the Property List, a new checkbox column shows whether the property is a built-in property or one added by you.
Take a Tour
There are many other enhancements to make Total Access Speller better than ever! For a quick overview of Total Access Speller, take the tour.
---
Pricing and Access Versions
Total Access Speller comes in versions specific to each version of Microsoft Access. It supports all the database formats that version of Access supports.