Total Access Speller Version X.5: New Features
With the release of Total Access Speller for Microsoft Access 2007, we also released X.5 updates for previous versions:
Version 11.5 for Access 2003
Version 10.5 for Access 2002
Version 9.5 for Access 2000
Many enhancements were added to improve your ability to spell check your MS Access objects.
Main Screen Redesign
Total Access Speller X.5 includes a completely redesigned user interface to support the sleeker Vista/XP color schemes and look and feel. The main screen reorganizes the separate features of spell checking your objects: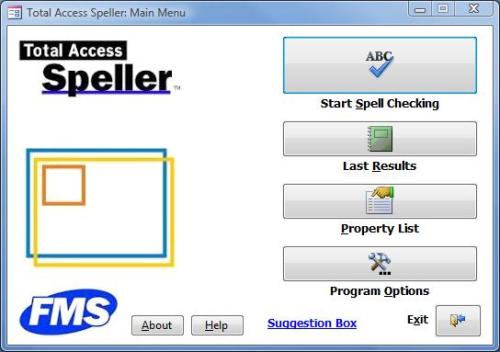 The main spell checking wizard is under the [Start Spell Checking] button and is similar to what existed in prior versions.
The [Last Results] button is new and provides a summary of the last set of requested changes with detailed reports of what worked and what failed or requires manual attention.
The [Property List] feature is removed from the previous version's spell check wizard and placed here since it's not usually modified for each spell checking session.
The new [Program Options] feature lets you specify the paper size for the reports (US Letter or A4) and how to handle properties on Linked Tables.
Improved Property Spell Checking and Updates
In prior versions, changes to certain properties (command bars and controls with hotkeys) were not automatically applied. This is now significantly improved:
All object property updates are applied
Updates to linked table properties can be optionally applied
If a control's caption is updated and it loses its hotkey, a report lists these
Macro and embedded macro updates cannot be automatically applied because of Access security limitations. A report lists the changes that need to be made manually
A summary screen show the results of the spell checking changes with reports associated with them: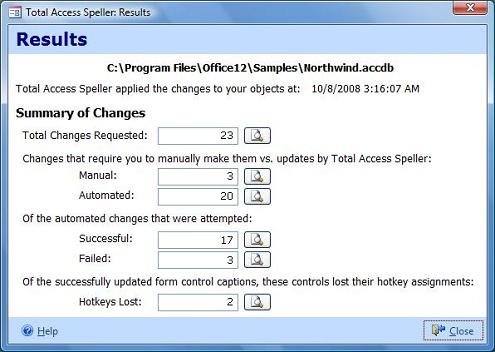 Several reports are available:
All requested changes
Requested changes that need to be manually updated
Requested changes that were automatically applied
Automated changes that succeeded and failed
(some changes may violate validation rules or permissions)
Any control captions that were changed and lost their hotkey (happens if the letter isn't in the new caption)
Other Enhancements
Option to specify how properties of linked tables should be handled
Option to choose A4 or US Letter size paper for reports
Rather than storing its temporary data in the Total Access Speller add-in which caused bloat, a separate database is used to store the temporary data in your Application Data folder.
There are many other enhancements to make Total Access Speller better than ever! For a quick overview of Total Access Speller, take the tour.
---
Pricing and Access Versions
Total Access Speller comes in versions specific to each version of Microsoft Access.