Once you have a command button with the picture and properties you want, you may want to duplicate it on this form or to another form. Using the Windows Clipboard to copy and paste seems like the way to do that.
Copy and Paste Loses the Picture
Unfortunately, when you copy and paste the button, the new button doesn't have the picture. From the Form Designer, the button on the left is the original that is copied. The button on the right is the pasted version: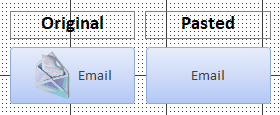 The picture is missing from the button on the right!
Could be a Serious Problem if You Don't Have the Graphic File
In our situation, we can easily update the Picture property by selecting the graphic file again (email.bmp).
However, you may want to duplicate a button where you can't find the original graphic file. Maybe you created it a long time ago or someone else created it, so you can't find it or maybe that file changed. This minor issue suddenly becomes a serious problem.