Emailing from Microsoft Office Access 2007
This page is a reference for a legacy version (12.0) of Total Access Emailer 2007.
Version 12.7 is the latest Access 2007 version.
The world's leading email program exclusively designed for Microsoft Access is now available for Microsoft Office Access 2007. Total Access Emailer 2007 introduces several exciting enhancements to combine the power of Access 2007 with email.
Discover the many enhancements we've added:
Support for the New Access 2007 Database Format
Total Access Emailer supports all the database formats supported by Access 2007. This includes the previous Access/Jet MDB format databases and Access Data Projects (ADP), plus the new Access 2007 ACCDB file format.
Support for the New Access 2007 Field Types
Total Access Emailer also supports the new Attachment and multi-value field types introduced with the new database format. You can reference an Attachment field to include its contents as attachments to your email.
Attach Access Reports as PDF or XPS Files
Total Access Emailer supports attaching Access reports as Adobe Portable Document Format (PDF) or XML Paper Specification (XPS) files. Just install the free download from Microsoft to enable PDF and XPS output in Office, and Total Access Emailer integrates it with your emails.
A New Microsoft Office Access 2007 User Interface
Total Access Emailer 2007 supports the new streamlined user interface of Office 2007. This includes:
Support for your database's Document Windows Options set to traditional overlapping windows or the new tabbed object display.
Resizable forms for either Windows option
Use of Access system colors with support for Office color schemes.
Use of the new Office fonts on forms
Alternating row colors for datasheets
Transparent buttons with graphics
The net result is a much cleaner, sleek, modern user interface: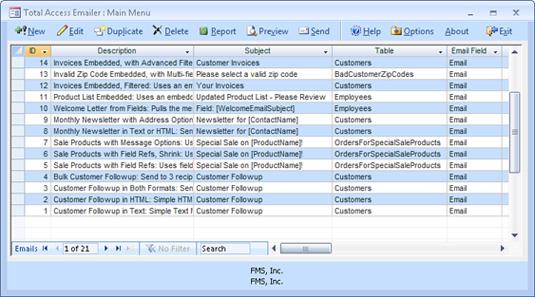 Preview HTML Messages
The HTML tab of the Settings Editor and the Preview to Screen form now display the HTML message instead of the HTML code. Directly edit your HTML message and apply styles, or import HTML code from a file.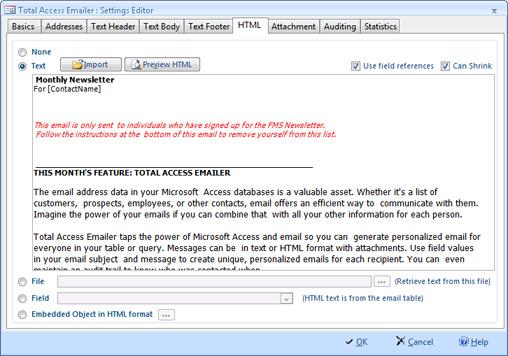 Enhanced Professional Version
The Professional Version of Total Access Emailer has a programmatic VBA interface that lets you add email blasts to your Access applications and distribute them royalty-free to your users. The Access 2007 version includes two libraries:
A library in the new ACCDE format to support the new ACCDB databases for deployment to Access 2007 users
An Access 2003 MDE library to support users who may still be using Access 2003. This is digitally signed to avoid the nag screens that exist in Access 2003.
This lets you use Access 2007 to create your email blasts and still support users who have not upgraded to Access 2007. Of course, the new features in Access 2007 such as attaching reports as PDF files, are not available to the Access 2003 users.
Complete details of the Runtime License are in the License Agreement.
---
Pricing and Access Versions
Total Access Emailer comes in versions specific to each version of Microsoft Access.