The Most Powerful Microsoft Access Email Program Just Got Better with Version X.7 for Access 2013, 2010, and 2007!
When we introduced Total Access Emailer for Microsoft Access 2016 (version 16.0), we created X.7 versions to include its new features into Total Access Emailer for Access 2013 to 2007:
Version 15.7 for Access 2013
Version 14.7 for Access 2010
Version 12.7 for Access 2007
Existing customers with a current priority support agreement receive free upgrades. Customers without a support contract can upgrade for a nominal fee. Here are the enhancements:
---
Validate the Email Addresses in Your Email Blast Before Sending It
On the main screen, a new Email Validation button verifies the format of all the email addresses in the current email blast before you send it. It checks the Email field, and the Cc and Bcc if they reference fields. Any email addresses that do not meet standard email formats are listed: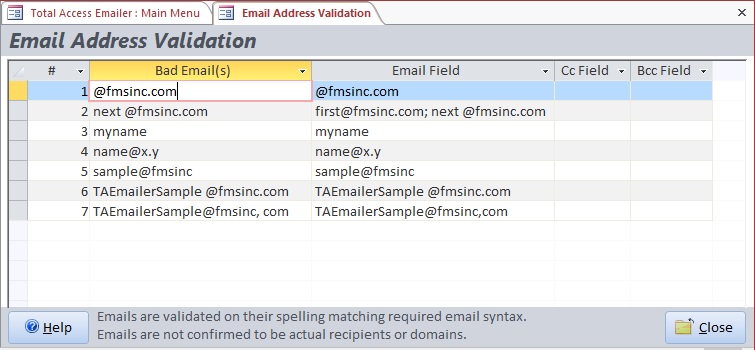 Bad Email Addresses
---
Save Attachment Files to Disk
In addition to or instead of attaching files to emails, those files can be saved to a folder on your PC. By referencing unique values in your data source (like contact ID or email address), you can create unique names or subfolders for each contacts' files. The settings are on a new Save Files tab: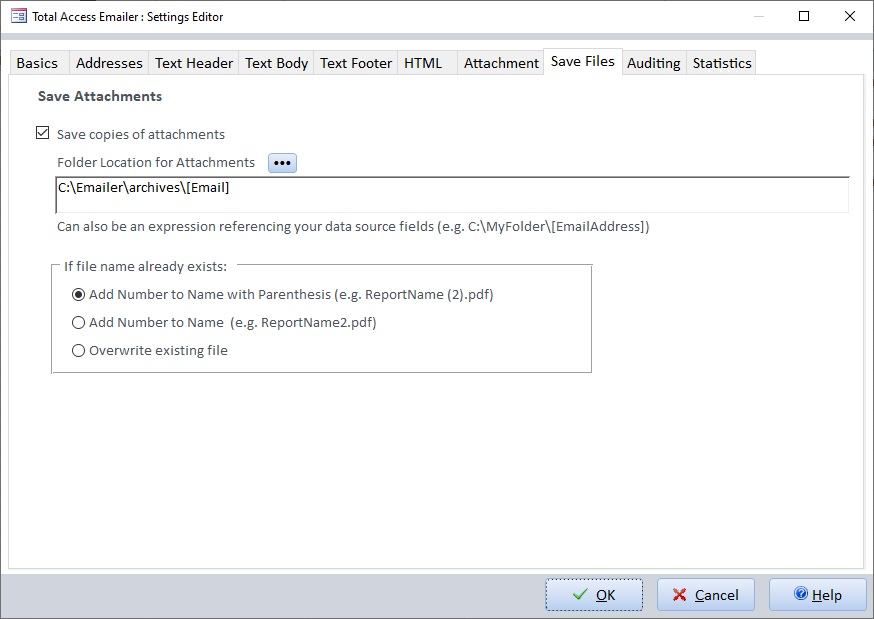 Save Files Tab for Email Blast Editor
---
Preview Saving Files to Disk
When an email blast with Save File options is selected, options are now available to save the files to the email blast's specified folder or a folder just for the preview.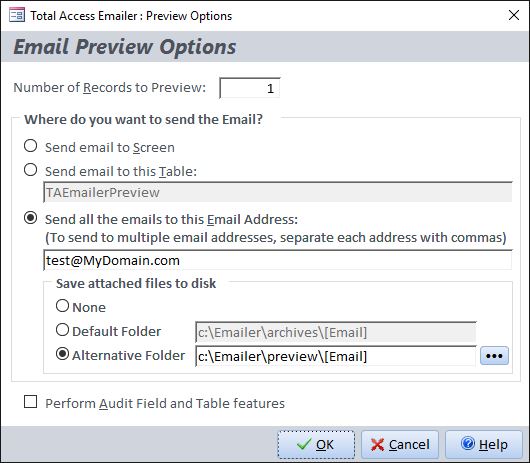 Preview Email Blast with Save Files Options
---
New VBA Function to Preview Email Blasts with Files
A new function, TotalAccessEmailer_PreviewSaveFile, lets you preview an email blast with the Save File option. Specify the folder for the saved files in addition to the email address and number of records to process.
---
Code Generator Supports Preview Email with Save Folder
The Code Generator is now enhanced to support email blasts with the Save File option. If preview is selected, you can specify the folder to store the files. The options are also reorganized from the left to the top.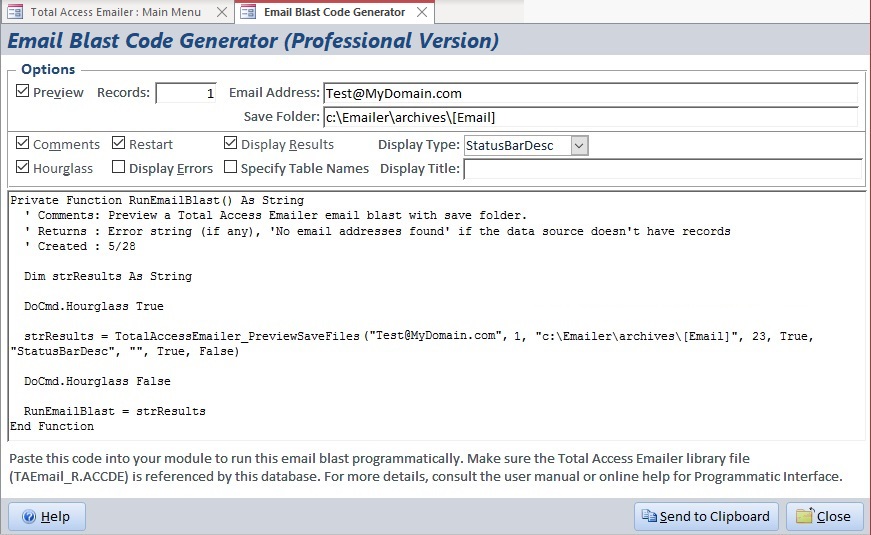 Code Generator with Preview Options to Save Files
---
Sample Database Shortcut
From the Windows menu, the shortcut to open the sample database opens the database with the correct version of Access corresponding to your version of Total Access Emailer.
---
Updated Documentation
The user manual and help file are updated with the latest information. The help file was significantly reformatted and enhanced.
---
Support for Office 365 and other SMTP Services using TLS
This feature was added when Total Access Emailer 2013 shipped, but prior versions of Total Access Emailer were not upgraded. It is now in the X.7 updates for Access 2010 and 2007
Emails can be sent with SMTP settings using Transport Layer Security (TLS) Connection type. This is a more advanced cryptographic protocol beyond the Secure Socket Layer (SSL) predecessor. If you are using Office365.com as your email Exchange Server, TLS lets you use the smtp.office365.com SMTP server to send your emails.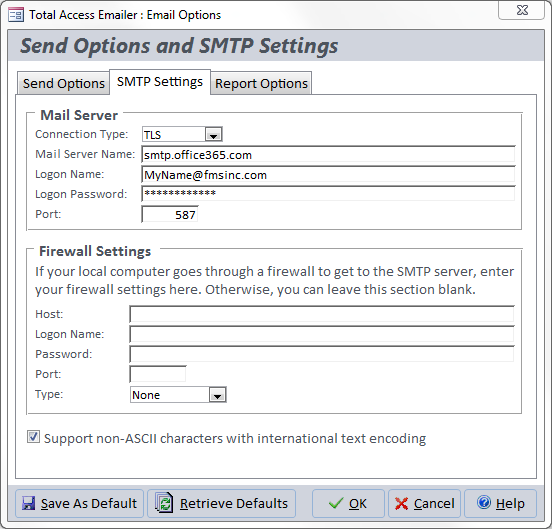 ---
Comparison to Older Versions
If you are using a version of Total Access Emailer before the Access 2013 version, these are the enhancements in earlier versions:
All of those enhancements are included in the new Microsoft Access 2016 version and the new X.7 updates for the 2013, 2010 and 2007 versions.
---
Download the Trial Version
A functional demo version is available for you to try Total Access Emailer on your data. Download a trial version
If you want to look at how it works without installing the program and review the calculations it generates, read the user manual for more details of these and other Total Access Emailer features. A context sensitive help file is included in the program and trial.
---
Pricing and Access Versions
Total Access Emailer comes in versions specific to each version of Microsoft Access.