New Features of Total Access Detective for Microsoft Access 2016 and 2013
The most powerful database, object, module, and text comparison product for Access is now available for Microsoft Access 2016 and 2013:
Version 16.0 for Microsoft Access 2016
Version 15.0 for Microsoft Access 2013
If you need to know exactly what changed between any two MS Access objects or databases, Total Access Detective is for you.
Enhancements
We've made many enhancements compared to the Microsoft Access 2007 version:
---
Microsoft Access 2016 and 2013 (32 and 64 bit Versions)
Supports Both 32 and 64 bit Versions of Microsoft Access 2016 and 2013
Total Access Detective includes add-ins for the 32 and 64 bit versions of Microsoft Access 2016 And 2013. It supports any operating system those versions support including Windows 10 and 8. The setup program automatically detects which version of Access is installed and installs the appropriate version.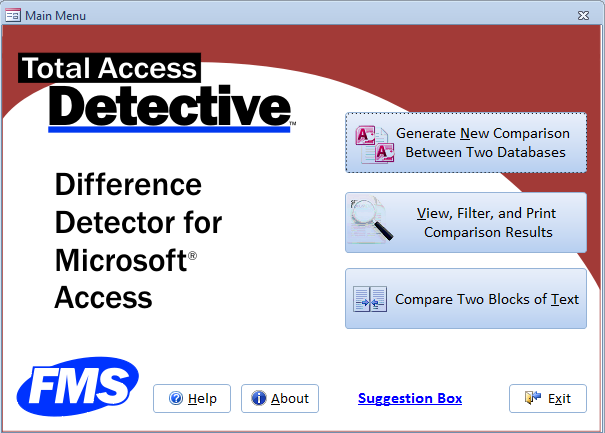 Compares All Database Types Supported by Microsoft Access
It supports all the database types used by Microsoft Access 2016 and 2013 including:
ACCDB database formats (Access 2007-2016)
Jet Engine/MDB formats (Access 2000, 2002, 2003, and 2007)
This means you can use Total Access Detective 2010 with Microsoft Access 2010 to compare databases created by older versions of MS Access.
MS Access Enhancements with
New object properties
New macro syntax and embedded macros on forms and reports
New VBA module commands
Note that support for Access Data Projects (ADP) ended with Access 2013, so that's no longer supported. Use Total Access Detective 2010 with Access 2010 if you need to compare ADPs.
---
Module and Text Comparison Option to Ignore Line Numbers
Total Access Detective compares module code for differences. Module code may include line numbers to help with error handling to pinpoint exactly which line of code is crashing.
When comparing VBA code, you may have code thatís numbered and not numbered or two modules numbered differently. If you are only interested in the VBA that changed and not the line numbers, Total Access Detective offers a new option to compare your code and ignore any differences with line numbers: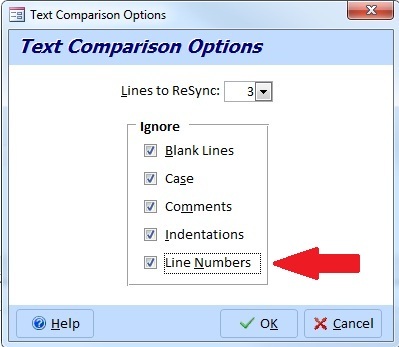 New Option to Exclude Line Numbers
---
Search Bar to Filter Objects and Properties by Name
Similar to the search bar on the Microsoft Access navigation pane, Total Access Detective includes a Name Filter to simplify selecting objects when comparing databases:


Name Filter for Selecting Objects
The [Select All] and [Cancel All] buttons work on the filtered list.
Similarly, the Name Filter is also available for Property names in the Property Selection feature: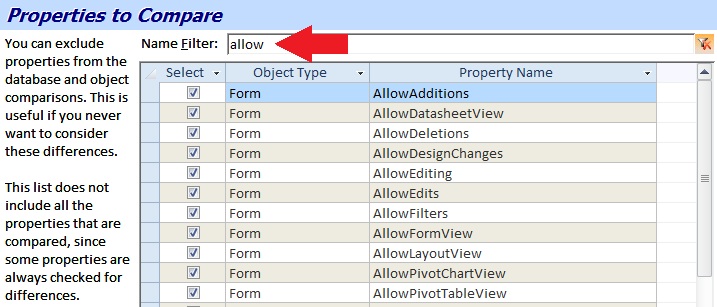 Name Filter on Property List
After comparing two databases, when viewing the Object Differences, the filter for the object names and properties also has the Name filter.
---
See and Filter Tables based on Whether itís Linked
When comparing two databases, a list of identically named objects is displayed to select them for detailed comparison. Tables are now displayed with information on whether they are linked or not, and a filter is available to easily see the differences:

Select the Tables to Compare
The filter options are:

All: No Filter
Local: Both tables are local (exist in their respective database)
Linked: Both tables are linked to other databases
Mixed: One is local and the other is linked
---
Procedures with Differences List
When comparing two modules, a new tab shows the procedures with differences. The detail of the differences remains in the main tab, but now thereís a summary list of procedures that are different:


New Procedures with Differences Tab when Comparing Text


New Procedures with Differences Tab when Comparing Two Modules


New Procedures with Differences Tab when Comparing Modules in Two Databases
In addition to viewing the data in the tab, corresponding export and reports are available.
---
New Manual and Context Sensitive Help
A new user manual and help file are provided.
---
Pricing and Microsoft Access Versions
Due to the differences within each version of Microsoft Access, Total Access Detective is specific to each version of Access.
---
Additional Resources