Link a Microsoft Access Database to Microsoft Outlook Data
Provided by: Dave Juth, Senior Systems Architect
Did you know you can link data from Microsoft Outlook into a Microsoft Access database? Get the list of contacts, calendar items, mail messages, notes, tasks, etc. To do this, follow these steps from your Microsoft Access database.
Step 1: Launch the Exchange/Outlook Import Wizard
From Microsoft Access 2016, 2013, 2010, or 2007
Choose External Data, More, Outlook Folder: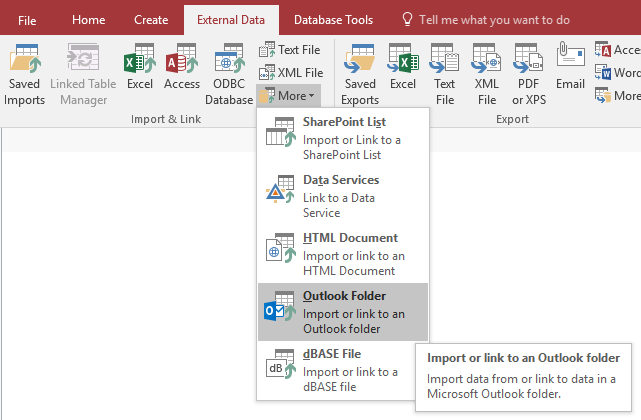 From Access 2003 or earlier
Select from the menu: File, Get External Data, Link Tables. In the Files of Type dropdown, select Outlook.
Step 2: Choose Import or Link
On the next screen, choose the connection type. For our example, we'll choose "Link to the data source by creating a linked table" to always have the latest data: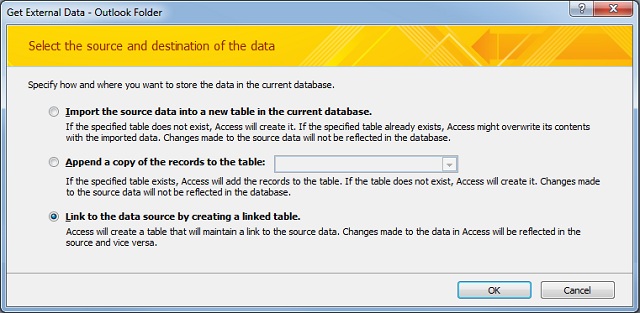 Step 3: Choose the Source Data
The next dialog of the Wizard lets you expand the treeview of your Outlook folders: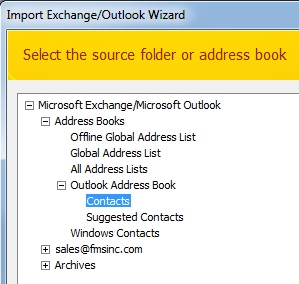 Expand the Address Book, Mailbox, or Public Folders and select the data to link into Microsoft Access as a table. For example, to link Contacts data, expand your mailbox and select the Contacts node. Click Next.
Step 4: Specify the Linked Table Name
In the last form of the Wizard, specify your linked table name, press Finish: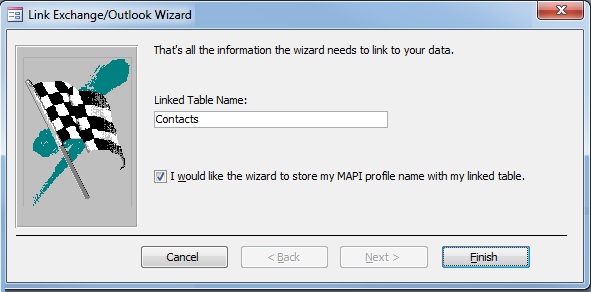 When the Link/Exchange Wizard prompts you with the finished dialog, click the OK button and you will see the linked table in your database:

You can now use and query your Microsoft Outlook data similar to other linked tables.
---
Microsoft Outlook Tips and Techniques
Messages
Calendar
Microsoft Access and Outlook
Office 365 and SMTP