The Most Powerful Data Analysis Program for Microsoft Access 2007 and 2003 Just Got Better with Version X.9!
When we introduced Total Access Statistics for Microsoft Access 2016 (version 16), we created versions 12.9 and 11.9 to include its new features into Total Access Statistics for Access 2007 and 2003.
Existing customers with a current priority support agreement receive free upgrades. Customers without a support contract can upgrade at a discounted price.
New Add-in and Runtime Library Files
Version 12.9 and 11.9 include new files for the Access add-in. It also has new runtime library files:
A digitally signed MDE library for MDB databases that support users of Access 2016, 2013, 2010, 2007 and 2003
The Access 2007 version includes an ACCDE runtime library for ACCDB databases for Access 2016, 2013, 2010 and 2007 users
The Access 2003 version includes a runtime library for Access 2000 and 2002 users
Additional Percentile Types Can Be Assigned to a Field in Your Table
In addition to generating a new table with percentile values or assign a percentile value to a field in your table, you can now specify calculations such as quartiles, quintiles, octiles, deciles, etc. rather than just percentile with the new "Fill with.." option: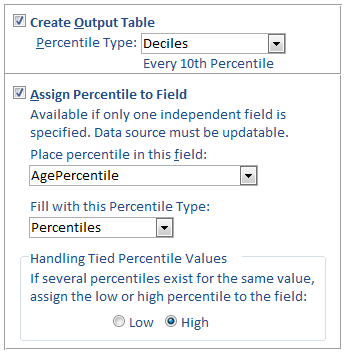 Data Formatting Enhanced
Field format is set to Percent for percentage fields in the Frequency, Crosstab (when percentages are in columns), and Chi-Square details tables. Previously, they were formatted as General Number.
When tables are generated from the add-in, the field column widths are resized to show the entire field name and data.
Performance Improvements
Improved performance when analyzing large data sets.
Improved Financial Calculations
The Cash Flow Analysis features are enhanced to better handle edge cases of irregular and limited transactions when calculating IRR, XIRR, and related functions.
Updated User Manual and Help File
Updated user manual and help file.
Supports Windows 8 and 10
The current operating systems are supported and the installation program enhanced to install differently in the Windows 8 and 10 environment versus Windows 7 and earlier.
---
Comparison to Older Versions
Total Access Statistics 2007 and 2003 have had many enhancements over the years. Here's a history of its previous major releases:
For more information, visit our entire History of Total Access Statistics Releases and Updates
---
Download the Trial Version
A functional demo version is available for you to try Total Access Statistics on your data. Download a trial version
If you want to look at how it works without installing the program and review the calculations it generates, get the help file for more details of these and other Total Access Statistics features (included in the trial download).