April 2018

For Microsoft Access, SQL Server,
Visual Studio .NET, and VB6 Professionals

---
Greetings!
April has been a very busy month! Fellow Microsoft Access MVP Karl Donaubauer hosted his second English Access conference in his hometown of Vienna, Austria. It was an honor to speak at the event and meet so many Access enthusiasts from 13 countries. I even enjoyed the sights of historic Vienna including the amazing Natural History Museum with the baby elephant in front.
We've added more technical content to our site with a new paper on monitoring SQL Server databases on Microsoft Azure, setting up Office 365's SMTP server for relay, Access queries, and other tips described below.
With all the news coverage on the Facebook scandal and Mark Zuckerberg, we're sharing our experience from 2010 when we created our ill-fated Facebook application. Learn what really happened with Facebook data.
We'd also like to welcome several new organizations that our Professional Solutions Group is offering custom database development services including new clients in government and education.
This weekend, I'll be speaking at the Portland Access User Group in Oregon. Hope to see you there.
Luke Chung
President
P.S. We've only included a subset of recent news here. For additional information, visit our News Announcements page. To receive the latest notifications, follow us through our

Facebook page,

Blog, and
Tweets.
Contents
---
Microsoft Access Conference near Portland, Oregon
April 28-30, 2018, Silver Falls State Park, Oregon
The Portland Access User Group will hold their annual event at the conference center of the beautiful Silver Falls State Park a couple hours south of Portland, Oregon. This extended weekend event brings together some of the top Microsoft Access developers, enthusiasts, and Access development team members.
---
Microsoft Azure SQL Server Usage and DTU Limit Resource Graphs are Confusing
We're doing more and more work with SQL Server databases hosted in the Microsoft Azure cloud. SQL Azure lets you easily scale your databases to meet demand. But how do you monitor and set the correct level?
Microsoft Azure doesn't make it easy. For example, these two graphs show usage levels over the last 60 minutes and 65 minutes. Why are they so different for the same time period?
| | |
| --- | --- |
| 60 Minutes | 65 Minutes |
Read our new paper on Monitoring SQL Server Usage on Microsoft Azure and Setting DTU Limits to learn why.
---
How to Setup SMTP Relay in Office 365

Total Access Emailer is the world's most popular Microsoft Access email add-in product and VBA code library. Simplify the way you communicate with your contacts, and easily share the data and reports from your Microsoft Access databases with personalized emails for each recipien

If you're using Office 365, this is how you setup its SMTP Server to work with Total Access Emailer:

Troubleshooting Total Access Components and VBA

Total Access Components is a dazzling set of 30 ActiveX controls designed specifically for Microsoft Access to improve your user experience and simplify programming.

In addition to setting properties, you can use Visual Basic for Applications (VBA) to customize its features.

If you need help troubleshooting the VBA interface, visit our new support page:
---
Facebook Application with Social Network Analysis (SNA) and Geospatial Mapping
The recent Facebook controversy on how user data improperly got to Cambridge Analytica reminded us of our Facebook App attempt in 2010. Facebook provided an API to let a user install our application to get to all the data they can see. It was an attempt for developers like us to create innovative solutions.
Facebook is being falsely accused of selling user data when the security breech is actually a violation of the Facebook API terms of use. They weren't selling the data. Developers weren't allowed to save Facebook data.
Well, not everyone abided by those rules, and as a result, our cool Facebook App was unable to get to the user's data soon after we launched. Unfortunately, some developers violated Facebook's terms so they shut it all down.
Here's a new web page describing our experience: Facebook Application with Social Network Analysis (SNA) and Geospatial Mapping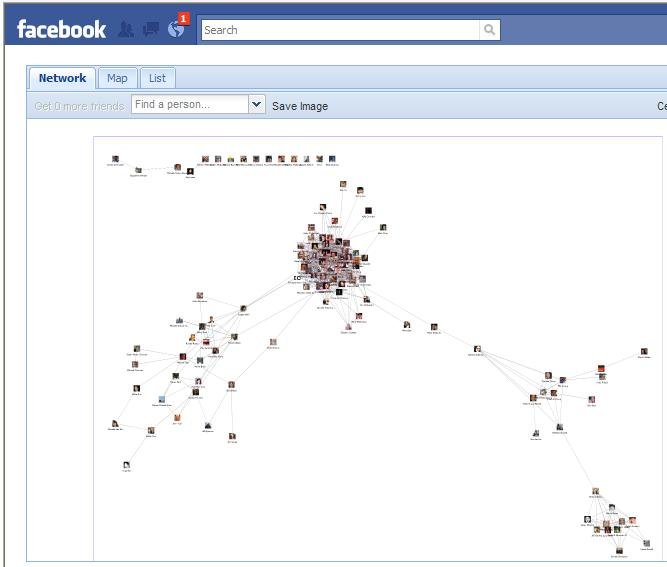 ---
Updates to our Microsoft Access Query Help Center
Our free Microsoft Access Query papers are among our most popular. We've updated several of them:
Visit our Microsoft Access Query Help Center for more MS Access Query Tips and Techniques.
---
Welcome New Education Client: Louisiana State University

FMS welcomes Louisiana State University to our growing list of Educational Institutions using our services to create custom database solutions.

Welcome New Government Clients: Amtrak and Colorado State

Amtrak and the Colorado Department of Public Health and Environment join our growing list of Government Clients at the local, state, national and international levels.
Please contact our Professional Solutions Group for more information.
---
Microsoft Access/Office Resources
Here's a list of free resources directly from the Microsoft Access team. It includes the new technical community, training videos, help center, blog, and how to sign up to be an Office Insider.

Visit our blog post for more details: Microsoft Access/Office Resources
---
Microsoft Access Developer Conference in Vienna, Austria 2018
April 7-8, 2018, Hotel Strudlhof
FMS was a sponsor for the second Microsoft Access Developer Conference in Vienna, Austria.
Fellow Microsoft Access MVP Karl Donaubauer hosted a sold-out event with 60 attendees from 13 countries. Photos from the 2018 event are available in our Facebook Album.
FMS President Luke Chung was a featured speaker for the 2018 conference and gave a new presentation on Supporting Multiple Microsoft Access Versions. For more information, visit Karl's web site: Access DevCon Vienna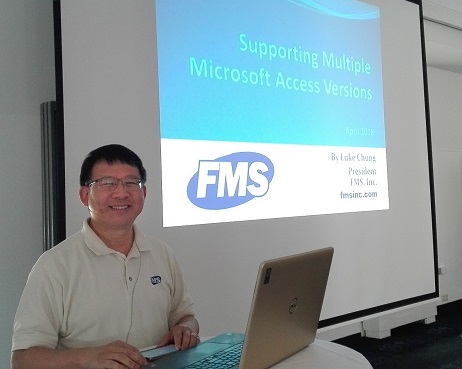 ---
Small Business Administration Meeting with Linda McMahon
FMS President Luke Chung had the pleasure to attend a meeting with Linda McMahon the SBA Administrator in Washington, DC. Linda McMahon spoke about the Small Business Administration that she currently leads, how they help businesses around the country, and her journey from a small town in NC to running the WWF, now WWE, in an obviously male dominated industry.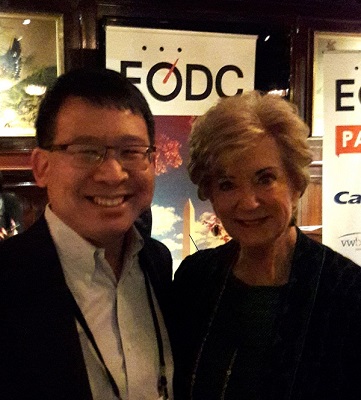 ---
Your Opinion Matters
Our newsletters are designed for you. To help us provide better service, please send us your suggestions and comments about "The Buzz", as well as our products and services.
See something useful you'd like to see more of it? Want more Microsoft updates?
Please Contact Us with suggestions, comments, or requests.
Past Issues of the BUZZ
Have you missed a past issue of our Buzz email newsletter?
You'll find recent issues conveniently archived for easy retrieval. Get all the tips, news, product updates, and more! (Past Issues)