December 2018

For Microsoft Access, SQL Server,
Visual Studio .NET, and VB6 Professionals

---
Happy Holidays!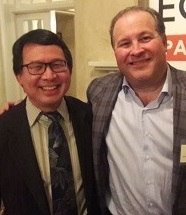 FMS, Inc. is celebrating its 32nd year and its thanks to you and all of your support!
I recently had the pleasure meeting the Ambassador of Panama, Emanuel Gonzalez-Revilla. We had a nice discussion about the business climate in Panama, the work he did before becoming an ambassador, relations between the United States and Panama, and raising his two college age sons.
Microsoft has released Access 2019 for both perpetual licenses and part of Office 365. We've released Total Access Analyzer 2019 with it and expect to release other products to support it soon. In the course of updating Total Access Analyzer 2019, we've released a free update for the 2016 version, and paid updates for the 2013, 2010, and 2007 versions. They are free if you have a support subscription.
Some recent updates from Microsoft has caused Access database corruption. Read what our team discovered along with a workaround for Error 3343 when Microsoft Access says your database is in an inconsistent state.
Have you lost your original ACCDB or MDB database and only have the ACCDE or MDE file? We are now offering a service to recover your original Microsoft Access database. Let us know if we can help.
We've only included a subset of recent news here. For additional information, visit our News Announcements page and receive our latest notifications from our

Facebook page,

Blog, and
Tweets.
All the best,
Luke Chung
President
Contents
Upcoming Microsoft Access Conferences in 2019
---
Happy 32nd Birthday FMS, Inc!
FMS, Inc is celebrating its 32nd year! Since we started in 1986, FMS has become the world's leading developer of products for Microsoft Access developers and a top vendor of products for the SQL Server, Visual Studio .NET, and Visual Basic communities.
FMS is the world's leading developer of products for Microsoft Access developers, and a top vendor of products for the SQL Server, Visual Studio .NET, and Visual Basic communities. With tens of thousands of customers in over 100 countries, FMS customers are comprised of a variety of organizations from small to large including 90 of the Fortune 100 and every US federal government department. Our experience and processes for developing commercial off-the-shelf software deployed worldwide is applied throughout all our development efforts.
We at FMS, Inc. want to thank our customers for choosing us and we hope we can continue serving you in the future.
---
FMS Career Opportunities
FMS, Inc. is an award winning Microsoft Partner located in Tysons Corner, Virginia near Washington, DC. Established in 1986, we are a leading creator of Microsoft developer tools, and offer custom application development services to a wide range of clients across the region, country, and internationally. We were recognized as an SD Times 100 firm (the world's 100 top most innovative software firms) and have 50,000+ customers in over 100 countries.
Conservatively run and financially solid, we've experienced and survived multiple technology cycles for several decades. We foster an intimate environment where you can grow professionally and personally. Create great IT solutions that impact our clients' missions while supporting a lifestyle that's sustainable long-term. Our management team are all technical experts and understand the challenges software developers face.
We are currently seeking:
Experienced Microsoft Access Developer
Experienced Microsoft Visual Studio .NET C# Web Developer
If you're interested and would like to find out more, check out FMS Career Opportunities.
---
Total Access Analyzer is available for Microsoft Access 2019!
Total Access Analyzer examines all your database objects to provide extensive documentation, code analysis, object cross-reference, and diagrams with over 390 presentation-quality reports. It detects 300+ types of errors, suggestions, and performance tips, so you can learn and apply Best Practices to fix problems, improve your design, and speed up your Access applications.
Enhancements
Supports Microsoft Access 2019, 32-bit and 64-bit versions.
Document All Database types supported by Microsoft Access 2019.
Improved Blueprint Documentation.
Additional Cross-Reference and Validation including Subform References.
Improved Memory Management.
Data Macro Documentation.
Document Workgroup Security in ACCDBs.
Better Support of Documentation for Multiple Databases.
Module Bracket Reports.
Improved User Interface Shows more Progress Details.
New Manual and Context Sensitive Help.
and more...
New updates for Total Access Analyzer are also available for Microsoft Access 2016, 2013, 2010 and 2007.
For more information, visit:
Download the Free Trial to experience it for yourself.
---
Microsoft Access ACCDE and MDE Database Recovery Service

Do you only have the ACCDE or MDE database files but can't find the original ACCDB and MDB files that created them?

We provide a database recovery service to convert ACCDE and MDE databases to ACCDB and MDB files. Also, we rescue data and other objects from a corrupt Access database.

We need to perform an assessment of a few hours to see if a recovery is possible, and if so provide the cost for doing it. This service is only provided if you have ownership of the solution and intellectual property.

For more information, visit Microsoft Access Database Recovery Service.

Microsoft Most Valuable Professional Award

Microsoft recognized FMS President Luke Chung as a Microsoft MVP for the seventh year in a row for his support in the Microsoft Access community!

The Microsoft Most Valuable Professional (MVP) award is given to individuals who have exhibited exceptional technical expertise and a talent for sharing knowledge within their technical community.
---
Microsoft Access has detected that this database is in an inconsistent state

Sometimes Microsoft Access may report that your database is in an 'inconsistent state', causing Error 3343 "unrecognized database format" on Windows 10 computers. This has been an open issue for Microsoft for some time.

We have found a potential workaround that we hope you will find helpful!

Visit our General Access Support page to read more.

How to Split a Database in Microsoft Access

One of the most important architectural designs in Microsoft Access is the ability to split the database into a front-end and back-end database. This is how Access is designed to let you support multi-user databases and simplify how you enhance the application over time.

We've updated our webpage with step by step instructions on how to split a Microsoft Access database!

For more information, visit Microsoft Access Split Database Architecture.
---
Upcoming Microsoft Access Conferences in 2019
Microsoft Access DevCon 2019 in Vienna Austria

April 27 - 28, 2019

Fellow Microsoft Access MVP Karl Donaubauer is hosting the Access DevCon in Vienna, Austria in 2019.

More information at the Access DevCon web site.

Microsoft Access 2019 Conference near Portland, Oregon

September 28 - 30, 2019, Silver Falls State Park, Oregon

The Portland Access User Group will hold their annual event at the conference center in the beautiful Silver Falls State Park a couple hours south of Portland, Oregon.

More information at the PAUG conference web site.
---
Visit our Upcoming Events page for other activities.
---

Microsoft Announcements and Resources
Additional FMS Resources
Your Opinion Matters
Our newsletters are designed for you. To help us provide better service, please send us your suggestions and comments about "The Buzz", as well as our products and services.
See something useful you'd like to see more of it? Want more Microsoft updates?
Please Contact Us with suggestions, comments, or requests.
Past Issues of the BUZZ
Have you missed a past issue of our Buzz email newsletter?
You'll find recent issues conveniently archived for easy retrieval. Get all the tips, news, product updates, and more! (Past Issues)