Products for Microsoft Access Users, Developers, and Administrators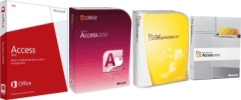 Microsoft Access is the most popular database in the world, and FMS is the world's leading developer of Access tools and utilities! Leverage the power of Access with our award winning line of Access productivity products. Some are Microsoft Access Add-ins that run directly in your Access desktop environment, some run directly in your VBA/VB6 IDE (editor), and others are standalone programs. All were designed specifically for the needs of Microsoft Access professionals.
Easily create better MS Access applications and manage more databases professionally. Discover why tens of thousands of Microsoft Access users and programmers from over 100 countries use our Microsoft Access tools and utilities to increase their productivity and deliver great results.
FMS News for Microsoft Access
Matrix of Products by User Categories
Below is a list and brief description of all our products for Microsoft Access. You can also view a User Matrix showing our products and how they apply to different user categories. Use it to quickly identify the products that are most important for you.
Multi-Product Suites for Microsoft Access
Total Access
Ultimate Suite

Save $2000!

The Ultimate Suite of Access Products

Our entire collection of twelve award-winning products for Access lets you deliver more powerful solutions. If you're serious about Access, the Total Access Ultimate Suite delivers significant productivity gains and features that will amaze your users, boss, and clients.

Total Access
Developer Suite

Save $400!

The 'Must Have' Access Developer Tools

For over a decade professional Access developers have demanded and enjoyed these five 'core' Access developer products. Create, maintain, and enhance your Access applications better than ever. Learn best practices, apply consistent coding techniques, and develop Access with more control!
Individual Products for Microsoft Access
Take Control of Your Databases

Winner of every Best Access Add-in award since 1994! Leverage the experience and expertise of FMS to apply Access 'Best Practices' to your work. Generate comprehensive analysis of your databases to detect over 280 types of errors, suggestions, and performance tips. Find unused objects and code, find table design inconsistencies, improve VBA coding, avoid mistakes, learn how to develop better solutions, and deliver more professional results in less time!

Know Exactly What Changed

Whether it's two databases or two objects in one database, quickly determine exactly what's different. Eliminate the guesswork and see exactly what objects, properties, controls, macro lines, and VBA module code changed. You can even pinpoint data changes and with table merge, easily combine data from two tables into a new one by specifying which table's new and modified records to keep.

Microsoft Access Email Blaster

Combine the power of Microsoft Access and email to generate personalized email for everyone in your list. Messages can be in text or HTML format with attachments. Use field values in your messages, and embed Access objects to create unique, personalized emails for each recipient. Email Access reports as PDF files or use them for your HTML email messages. Attached files can be zipped and password protected. End-user and programmatic interfaces available.

Microsoft Access Number Crunching

If you need data analysis beyond queries, Total Access Statistics offers a wide range of statistical analysis within Access with results in tables. Easily calculate percentiles, frequency distributions, regressions, ANOVA, non-parametrics, probabilities, moving averages, etc. Perform rankings, retrieve random records, and normalize data. Analyze any table, linked table, or query with all results in tables. End-user and programmatic interfaces included.

Professional Module Coding Tools

Write, cleanup, and deliver Access VBA/VB6 code easier than ever. Code Builders help you write professional code quickly. Code Cleanup enhances existing code with error handling, variable naming conventions, formatting, etc. Code Delivery adds robust error detection and code obfuscation. Discover why so many programmers rely on the utilities in Total Visual CodeTools to take over existing applications and deliver better ones.

Ultimate Source Code Library for Access

The most popular professional source code library for Microsoft Access, Office/VBA and VB6 developers will help you write Access applications faster than ever! Use our collection of hundreds of modules and classes royalty-free. Why write code we've already written, tested, and documented for you? Use and learn from our 125,000+ lines of code. The Code Repository lets you store your own code and share it among your team.

Monitor Databases in Real Time

Total Access Admin gives the system administrative power to see who is currently in a database, prevent users from getting into a database, disconnect idle users, identify dropped connections, and other control to manage your Microsoft Access/Jet databases in real-time.

Task Scheduler for Access Databases

For optimal performance, your Access/Jet databases need to be periodically compacted and backed up. Total Visual Agent automates this and many other database chores. Eliminate database bloat, prevent corruption, and improve performance. Launch your own macros and schedule tasks hourly, daily, weekly, or monthly. Manage an unlimited number of databases across your entire network. Optionally run it as a secure Windows service. A database administrator's dream!

Add Sizzle to your Applications

Our collection of 30 ActiveX controls let you enhance your users' experience with functionality you otherwise couldn't get within Access. The only collection of ActiveX controls designed specifically for Access lets you easily provide form resizing, splitter bars, snazzy visual effects, rotated text, multimedia, etc. to your application with little or no programming. Royalty-free runtime license included.

Add Rich Text Memos to Forms and Reports

Your users want and need rich text memo fields. Total Access Memo lets them enter text with multiple fonts, point sizes, bold, italics, underline, bullet points, paragraph settings, color, graphics, etc. The rich text format (RTF) data is bound directly to a memo field in your table for easy display and printing. Includes a built-in rich text editor with multi-language support and royalty-free distribution rights.

Spell Checking for Access Developers

Eliminate embarrassing errors by easily spell checking what your users see on forms and reports. Verify the spelling on your labels, captions, status bar text, validation text, and other properties before you deliver your database solutions.

Microsoft Access Database Launcher

Total Access Startup lets you centrally manage MS Access applications by easily deploying databases to each desktop and launching the right version of Access every time. Distribute your applications with a shortcut and ensure your latest updates are always installed.

Simplify Data Entry of Addresses

Let your users enter a zip code and automatically fill in the City and State names. Your users will think it's magic and you'll improve accuracy and eliminate typos. This officially licensed zip code database from the US Postal Service is in an Access database and includes monthly updates.
---
Product Catalog
Here are additional resources to maximize your Microsoft Access knowledge and skills:
---
Keep in Touch
There are many ways to keep in touch with our latest news, tips, papers, industry insights, events, beta invitations, and other activities:
Learn from Our Experience
Here are additional, free resources to maximize your Microsoft Access knowledge and skills:
Trust the Experts at FMS and the Access Community
We have developed Access applications since 1992! We bring that expertise to you with our world-class developer tools. See our awards. See our reviews. See what industry experts say about us:
Total Access Analyzer
"The only way to really know what's going on in your database. I especially like its module analysis and the way it catches unused variables and procedures."
Ken Getz, Microsoft MVP,
Author of Access Developer Handbook and many other books
Total Visual Agent
"I often use this wonderful tool to schedule complex management reports to run in the middle of the night. Total Visual Agent runs the reports when no one is in the system. This means that processing involved in creating the reports does not degrade the performance of users trying to get their jobs done during the day...the reports are ready waiting for the users when they arrive at the office in the morning."
Alison Balter, Microsoft MVP, Author of Mastering Microsoft Access and many other Access books
---
Want Personal Help with your Microsoft Access Applications?
Our products are great for you to enhance your MS Access applications. However, if you don't have the time or skills for that, we also offer world-class Microsoft Access Consulting Services. In business for a quarter century, our Professional Solutions Group has provided quality solutions for a wide range of clients and requirements. We've partnered with many organizations over a decade and understand how to build solutions that evolve and maintainable over years of technology and business cycles.
We offer software development services to create MS Access solutions, evaluate and enhance existing applications, upsize them to SQL Server, SQL Azure , Visual Studio .NET, and/or migrate them to the web. Let us help you take your Microsoft Access applications to the next level.