Verify Linked Tables in Your Microsoft Access Application
Provided by: FMS Development Team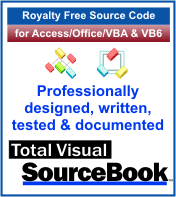 Ever had a user move a backend Microsoft Access database or delete it?
Here is a routine you can use to ensure that the linked table actually exists in the location specified using ADOX. You should be able to cut and paste everything from the "Begin Function" line to the "End Example" line into a new module and have it work for you.
This comes from Total Visual SourceBook's modADOJetADOX module. There's also an equivalent set of code to use DAO in CJetLinkedTables and CJetDatabase classes.
Required References: ADO Extensions for Data Definition Language and Security (ADOX)

' This Reference is seen in the References Dialog as "Microsoft ADO Ext. 2.x For DDL and Security"
'************ Begin Function Code ************
Public Function ADOXTestLinkedTable(cnnConnection As ADODB.Connection, strTable As String) As Boolean
  ' Comments : Tests the specified linked table to see if its link is valid
  ' Params   : cnnConnection - open ADODB connection to the Jet Database
  '            strTable - name of the table to test
  ' Returns  : True if the link is valid, False otherwise
  ' Source   : Total Visual SourceBook


   Dim catTmp As New ADOX.Catalog
  Dim tblTmp As New ADOX.Table
  Dim strTmp As String
  Dim lngSaveErr As Long
 
  On Error GoTo PROC_ERR

  ' Open the catalog by setting its ActiveConnection property
  catTmp.ActiveConnection = cnnConnection

  ' Set a pointer to the table
  Set tblTmp = catTmp.Tables(strTable)

  If tblTmp.Properties("Jet OLEDB:Create Link") = True Then
    ' It is a linked table so try to open it by getting the
    ' name property of one it its fields. If the table's link
    ' is not valid (for example, the database it is pointing to
    ' is moved, deleted, or renamed) this call will fail. We
    ' Disable error handling to handle a potential failure.
    On Error Resume Next
    strTmp = tblTmp.Columns(0).Name
  
    ' Save the error number
    lngSaveErr = Err.Number
  
    ' Re-enable error handling
    On Error GoTo PROC_ERR

    ' If the save error number is not 0, an error occurred
    ' and we can assume that the link is invalid
    ADOXTestLinkedTable = (lngSaveErr = 0)
  End If
 
  ' Close the catalog to release resources
  Set catTmp = Nothing

PROC_EXIT:
  Exit Function

PROC_ERR:
  MsgBox "Error: " & Err.Number & ". " & Err.Description, , "ADOXTestLinkedTable"
  Resume PROC_EXIT

End Function
'************ End Function Code ************


'************ Begin Example Code ************
' To call the above function, all you need to do is open a connection to the database.

  Dim cn As ADODB.Connection
  Set cn = New ADODB.Connection
 
  ' Open the connection
  With cn
    .CursorLocation = adUseServer
   .Open "Provider=Microsoft.Jet.OLEDB.4.0;" & _
    "Data Source=C:\Northwind.mdb"
  End With

  'Example code for ADOXTestLinkedTable
  Debug.Print ADOXTestLinkedTable(cn, "Categories")
'************ End Example Code ************"