Simulating the Microsoft Access Runtime during Development
Provided by: Molly Pell, Program Analyst
Download the Free Microsoft Access Runtime Version
The Microsoft Access runtime version offers a royalty-free way to distribute your MS Access applications to users who do not have a license of Access. For Access 2016, 2013, 2010 and 2007, Microsoft offers the runtime version for free while earlier versions require a purchase.
For details on the different versions and download links, visit: Microsoft Access Runtime Distribution and Free Downloads
Features and Limitations of the Microsoft Access Runtime Version
The runtime is similar to the full version of Access but designed for users to only run existing Access databases. They cannot create their own or modify the design of your databases. For example, the database window is not accessible, built-in toolbars are not supported, and the Visual Basic IDE is not available. Some of the Office features are also not available. The most significant being the Office spell checker. If that's necessary, the user must have the regular version of Access instead.
Implement VBA Error Handling for All Procedures
Because of the differences, it is important to ensure that your application works properly in the runtime environment prior to deployment. In particular, your error handler must be properly managed so that any crashes are gracefully managed and the database exits properly. That's because the Debug dialog is not available in a runtime deployment. For more details on error handling read our papers on:
Simulating the Runtime Experience
Of course, while you are developing Microsoft Access databases, you are running the full version of MS Access. Rather than setting up another machine to test the runtime environment, Microsoft makes it easy to simulate the runtime environment using the /runtime command line.
Follow these steps to create a shortcut to launch the runtime version:
From your Windows Desktop, right click and select New, Shortcut.
When prompted to enter the location of the shortcut, enter the location of MSAccess.exe, followed by the location of your database, followed by the /runtime switch.
For example:
"C:\Program Files\Microsoft Office\MSACCESS.EXE" "C:\MyDB.mdb" /runtime
When prompted for the shortcut name, type a descriptive such as: MyDB Runtime
By testing your application in this environment, you can find runtime-specific problems before deploying your application to others.
For more information on Command Line Options, visit Microsoft Access Command Line Options
Important Note about Testing Environments
Before releasing an application, you should test it thoroughly on a computer that only contains the lowest operating system supported by the application (with no updates), the Access runtime environment (if applicable), and any programs, controls, and DLLs that are installed by your application. If your application is distributed to the general public, you cannot be certain of the environment in which users will run your application.
For example, you may have developed your application in an environment with Office installed and expect products like Word, Excel or other Office components to be available. Since these parts of Office are not installed with the Access runtime, your users without Office products will encounter errors when they come across functionality that depends on them.
By testing in a minimal configuration, you can determine if there are dependencies that you did not address, and adjust your application or your dependencies accordingly.
---
Additional Testing Resources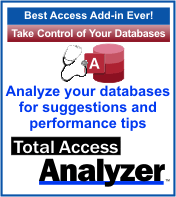 An important feature of Total Access Analyzer when it documents your database is the detection of problems that may cause your Access application to crash. Maybe you have a query referencing a field that was renamed or deleted, a form's ComboBox that depends on a deleted table, a procedure call with the wrong number of parameters, or a report not set to the default printer.
These and 300+ other errors, suggestions, and performance tips are detected by Total Access Analyzer to help you develop and deliver better Access solutions. If it doesn't pass Total Access Analyzer's review, you're not ready to ship!