Microsoft Access VBA/VB6 Debugging Tips and Techniques: Basic Error Handling
Provided by: Luke Chung, FMS President
Professional applications need to include error handling to trap unexpected errors. By using a consistent error handler, you can make sure that when crashes occur, the user is properly informed and your program exits gracefully. Basic error handling just hides the default behavior and exits the program. Advanced error handling can include all sorts of features such as saving information about the cause of the error and the environment at the time, attempts to address the problem, and information for the user on what they need to do next.
Verify Error Trapping Setting
Before you can use error handling, you need to understand the Error Trapping setting. VB6/VBA lets you to determine how it should behave when errors are encountered. From the module editor (IDE), look under the Tools Options setting.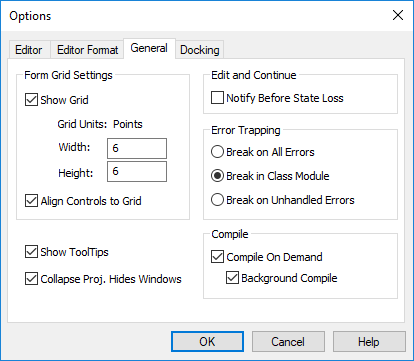 Make sure error trapping is not set to "Break On All Errors". That setting will cause your code to stop on every error, even errors you are properly handling with "On Error Resume Next".
"Break on Unhandled Errors" works in most cases but is problematic while debugging class modules. During development, if Error Trapping is set to "Break on Unhandled Errors" and an error occurs in a class module, the debugger stops on the line calling the class rather than the offending line in the class. This makes finding and fixing the problem a real pain.
We recommend using "Break in Class Modules" which stops on the actual crashing line. However, be aware that this does not work if you use raise errors in your classes via the Err.Raise command. This command actually causes an "error" and makes your program stop if Error Trapping is set to "Break in Class Modules".
Unfortunately, users can modify this setting before launching your application so you should make sure this is properly set when your application starts.
Programmatically, the option settings can be viewed and modified using the Application.GetOption and Application.SetOption methods.

Function GetErrorTrappingOption() As String
  Dim strSetting As String
 
  Select Case Application.GetOption("Error Trapping")
    Case 0
      strSetting = "Break on All Errors"
    Case 1
      strSetting = "Break in Class Modules"
    Case 2
      strSetting = "Break on Unhandled Errors"
  End Select
  
  GetErrorTrappingOption = strSetting
  
End Function

Here's a procedure that helps you change the setting:

Sub SwitchErrorHandling(fInit As Boolean)
  

' Copyright (c) FMS, Inc.
  ' Comments: Set or reset error handling routines
  '           This should be called when the program starts and ends.
  '           Avoids problems if the user has Break On All Errors which causes 
  '           On Error Resume Next code to fail.
  ' Params  : fInit TRUE for setting option, FALSE for resetting to original value


  
  Const cstrOptionErrorTrapping As String = "Error Trapping"
  Const cintBreakInClassModules As Integer = 1
  
  Static intErrorTrapping As Integer
  Static strSet As String
  
  If fInit Then
    strSet = cstrOptionErrorTrapping
    intErrorTrapping = Application.GetOption(cstrOptionErrorTrapping)
    Application.SetOption cstrOptionErrorTrapping, cintBreakInClassModules
  Else
    

' Do not reset error trapping if the static variable has been reset.
    ' This prevents an accidental reset to breaking on all errors


    If strSet = cstrOptionErrorTrapping Then
      Application.SetOption cstrOptionErrorTrapping, intErrorTrapping
    End If
  End If
  
End Sub

Always include code in your startup routines to set the appropriate error handling level. At the beginning of your application, call:

SwitchErrorHandling True

When your program finishes, reset this back to the original setting with:

SwitchErrorHandling False

---
Additional Resources
Source code from Total Visual SourceBook for: