Don't Deliver a Microsoft Access Database With Broken Object References
Provided by FMS Development Team
Broken references are one the leading causes of Microsoft Access database application errors. Someone opens a form and the underlying table or field is missing causing the whole application to crash. This often occurs when the object was renamed or deleted and the objects referencing it weren't updated.
To avoid such mistakes, make sure your queries, forms, reports, macros and module code refer to objects that actually exist. It seems simple, but as you develop your application, add new objects, rename existing objects, and delete objects, references become broken.
This also happens with module code that references functions in queries or macros. Additionally, if you reference external components through VBA, what works fine on your computer may not work on your user's system. Microsoft Access does not warn you about these problems, so they lurk deep in your application until your user discovers them.
Automated Process for Quality Assurance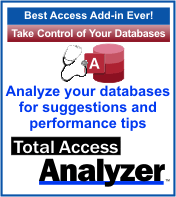 You can manually verify everything in the database is working properly but that's challenging and time consuming to do as projects get larger.
Our Total Access Analyzer product automates this and performs detailed cross-reference analysis for all your tables, fields, queries, forms, reports, macros, and module code to verify references are valid. Avoid the cost, embarrassment, and the loss of trust associated with broken references. While Total Access Analyzer cannot detect every issue that could potentially happen, it goes a long way towards helping you ship zero-defect applications.
Total Access Analyzer performs the analysis to detect inconsistent field data types and sizes for all your fields. So whether numeric fields or the size of text fields differ, you can easily catch such structural flaws along with hundreds of other issues to improve the quality of your Microsoft Access solutions.